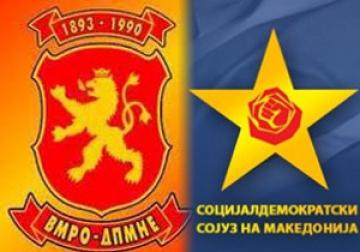 Skopje, September 18, 2013
The two largest political forces in the country, VMRO-DPMNE and MSDM have launched accusations today against each other for nepotism in the allocation of tenders and on those businesses which have ties with the government.
VMRO-DPMNE accused today the leader of the largest opposition party, Social Democrat League (LSDM) and mayor of Strumica, Zoran Zaev for nepotism in the allocation of the communal tenders. The party of Prime Minister Gruevski said that Zaev has allocated communal tenders to the company of his father and brother.
"Nepotism, conflict of interests and criminal work in the commune of Strumica is becoming more and more evident. This is an example of the unscrupulous violation of laws by Zoran Zaev and the commune of Strumica. As if 30 million denars, money of the people, which have been transferred to the private account of your father were not enough, but now another 348.808 denars have been transferred into the account of the firm of your brother. Will this ever end!?", declared Nikola Todorov from VMRO-DPMNE.
But, LSDM accused today the Minister of Interior, Gordana Jankulovska for nepotism and misuse of state funds.
"Simple calculations show that even if the minister and her husband didn't spend anything from their salaries, they would not be able to have 200 thousand Euros worth of capital in such a short time. Mr. Prime Minister and minister Jankulovska, how is this possible!?", said Petre Shilegov, spokesman of LSDM. Clashes between the two parties has recently increased even with "Skopje 2013" project and the funds for its realization. /ibna/