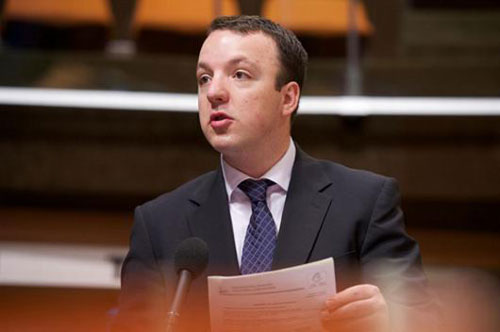 Skopje, February 27, 2014/Independent Balkan News Agency
By Naser Pajaziti
Senior representative and MP of the largest Macedonian party in power, VMRO-DPMNE, Aleksandar Nikolovski has called on the Council of Europe to turn its attention to the situation of the Macedonian minority in the commune of Pustec in Albania.
Mr. Nikolovski said that this community is threatened by economic migration and ethnic discrimination.
"With the new changes for the new territorial division or decentralization in Albania, the commune of Pustec may lost its rights of self governance and this community may lose its basic rights. This will happen because with the formation of another commune with larger borders, Albanians will be the dominating population", said Nikolovski.
Nikolovski expressed his concern in front of the monitoring commission of the Parliamentary Assembly of the Council of Europe.
He demanded from the Council of Europe to support the commune of Pustec, which according to him, is inhabited by 5300 ethnic Macedonians.
According to the new plan of decentralization in Albania, every commune is supposed to have at least 10 thousand residents in order to classify as a commune, otherwise, a dissolution with other communes takes place. According to Macedonian authorities, this may bring the end of Pustec commune.
The commune of Pustec has been constantly problematic for FYR Macedonia and Bulgaria, because both countries claim that their communities live in this commune. Skopje says that the residents of this commune belong to the Macedonian community, while Bulgarian authorities also claim that this community is of Bulgarian origins. /ibna/