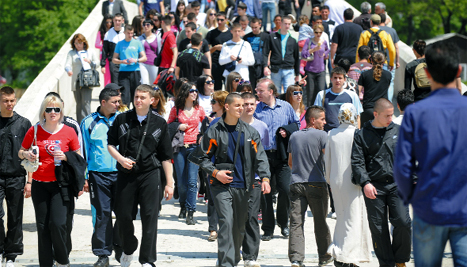 Skopje, December 13, 2013/ Balkan Independent News Agency
A survey carried out by the Institute for Research of Public Opinion "Dimitrija Cupovski" in Skopje has concluded that the two parties in power, VMRO-DPMNE and BDI enjoy most of the support in the public.
The survey has been carried out from December 7 to December 9 with 1115 respondents and according to the results, the party of Nikola Gruevski and the Albanian one of Ali Ahmeti, which govern in a coalition, enjoy most of the support.
24.8% of respondents have answered that they will vote for VMRO-DPMNE, 14,7% for the Social Democratic League (LSDM), 8% for BDI, 4,3% for PDSH and the rest for small political parties.
Nonetheless, a problematic figure comes out of the survey. Over 26% of respondents have said that they will not vote for any political parties.
"Dimitrija Cupovski" Research Institute for Public Opinion says that this survey is credible. The results of the previous survey were almost the same as those produced by the recent local elections.
Nonetheless, surveys carried out by institutes and local organizations continue to spark debates and political parties continue to launch accusations according to which these surveys are backed by particular political subjects. /ibna/