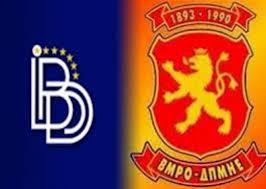 Skopje, May 10, 2014/Independent Balkan News Agency
By Naser Pajaziti
The two largest parties in the former Yugoslav Republic of Macedonia, VMRO-DPMNE and Democratic Union for Integration (BDI) announced today (Saturday), the agreement of the coalition for the formation of the new government. Both parties have come out with a joint declaration where they announce that they've reached an agreement for the formation of the governing coalition.
"VMRO-DPMNE and BDI, as the two parties that won the trust of the majority of citizens, decided to form the new parliamentary majority. In accordance to their programs and electoral promises, the parties decided to set as a priority of the next government Euro Atlantic integration and economic development of the country through reforms and projects for the improvement of the economic and social situation, the creation of new jobs and investments", says the joint declaration.
Based on this agreement, a joint work group will be appointed by the two parties in order to support and evaluate the work of the government and ministries involved in the Euro Atlantic integration. Meanwhile, respective government institutions will work with a reinforced dynamic for the fulfillment of economic objectives.
"In continuation, based on the program, until the NATO summit and EU Council of Ministers, the representatives of this work group will inform parties for the results that have been achieved and steps which have been made, the measures and reforms that have been fulfilled, which will decide further steps and the actions of the parties which will form the government. Negotiating groups continue to work in order to harmonize the principles that government partners will function and the division of resources", states the joint declaration.
In the framework of this agreement, BDI withdraws from its request to have the post of the speaker of parliament, which will once again belong to VMRO-DPMNE . It's not yet known how the Albanian party, BDI will act in the inauguration of president George Ivanov, which will be held on Monday, as this party has stressed that he's an illegitimate president for Albanians. In the April 27 elections, VMRO-DPMNE won 61 seats, while BDI won 19 seats. /ibna/