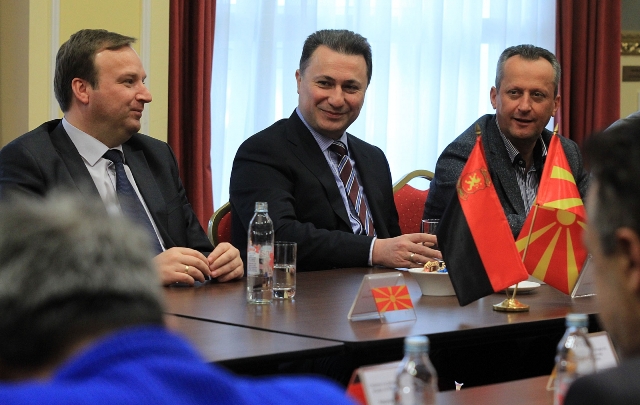 The largest Macedonian party, VMRO-DPMNE led by Nikola Gruevski, which failed to form a government in FYROM, has sent a public letter asking for clarifications from the US embassy in Skopje and the European Commission on their declarations following the expiry of the deadline for the creation of the government.
VMRO-DPMNE has asked the European Commission to explain which part of the Constitution of the country entitles the president of the country, George Ivanov to appoint a leader to form a "broad government".
"Macedonia has no time to waste, but the EU spokeswoman, Maja Kocijancic must explain what part of the Constitution entitles president Ivanov to appoint a leader for the formation of a broad government. In order for public opinion in Macedonia not to face any dilemmas, we would ask the EU to issue a public response", says VMRO-DPMNE.
VMRO-DPMNE has also demanded explanations from the US embassy after this embassy declared that "no new elections should be held in Macedonia". This party asks the US embassy to explain if this is the stance of the new US administration.
Meanwhile, the European Commission spokeswoman, Maja Kocijancic responded to VMRO-DPMNE's request saying that it is necessary to have a broad political consensus in order to handle the future challenges.
"We're talking about the need to have broad political consensus, in order for the state to manage the numerous challenges efficiently. The priority reforms must be implemented along with the Przino Agreement and other bilateral issues, which need a lot of commitment by political parties", Kocijancic said.
Meanwhile, the US embassy has asked political parties to continue their talks which would lead to the creation of a new government.
"We're hoping to work with the government of Macedonia as soon as it is created, in order to advance with euroatlantic integration processes, through the implementation of the Przino agreement reforms, namely, in the domain of the rule of law. The USA remains a partner of Macedonia in these efforts", says the US embassy's statement. /balkaneu.com/