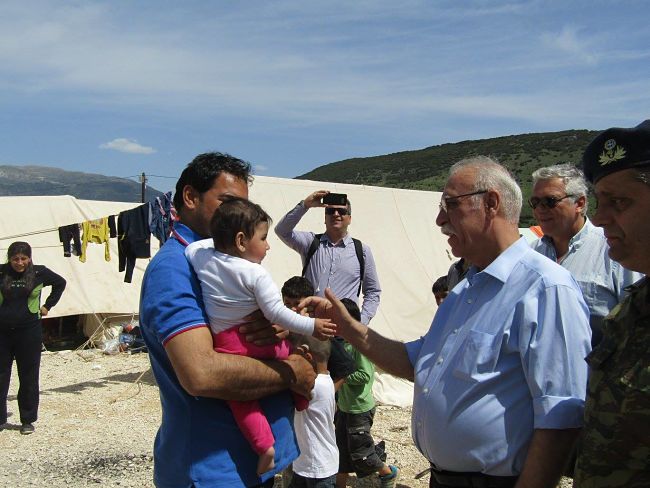 Athens, April 18, 2016/Independent Balkan News Agency
By Spiros Sideris
Priority for the government is to evacuate the port of Piraeus and Idomeni reshaped the centers and to improve the coordination of all ministries in the provision of services, highlighted from Ioannina Deputy Defense Minister Dimitris Vitsas.
Vitsas held a "working" visit, as he described it in his statements, to the accomodation center in Katsikas, where he had the opportunity to speak with refugees and listen to their problems. Upon arrival at the center, refugee children welcomed him with flowers, and a song about peace, love and childlike innocence.
After having walked among the tents and briefed about the living conditions, he said that the fact is that over the past 46 days Greece found itself in a new situation in relation with the refugee problem, resulting in more than 50 000 mainly refugees and immigrants remain at this moment in the country, there was the need to set up rapidly accommodation centers at various levels, with problems and more difficulty some of them, such as the ones in Koutsohero and Katsikas, and added:
"Our goal is for existing shelters to be rearranged promptly, to reach at least an average level. But we will not stop there. You know that we are going from large to smaller accommodation facilities, which will eventually bring stability".
Indeed, he made reference to the centers operating indoors in Konitsa, Doliana and starting Saturday in Tsepelovo as well, to indicate that once the relevant reform of the old Orphanage of "Saint Helena" has been completed, a sufficient number of refugees will be transferred there from Katsikas, with the former center's operation discontinued, according to the minister, in the coming months.
"Katsikas and St. Helena will not operated together, this is understandable". At the same time, he said: "It is important for the agreement to work, in order to stop the flows from Turkey. This stabilizes the population of refugees and immigrants. Once it is stabilized, on Saturday came 30, then changes will be made and on the relocation in Europe and the stay in Greece.  Refugee center like Katsikas won't operate for much longer. Hence, it is necessary and planning has been made to change them.
When refugees will be transferred to "Saint Helena", those who will not be able to settle there due to capacity will go somewhere else. And it will be reasonable. They will be transferred to another prefect of the country. Besides, in the second and third phases, in prefects of the country, where refugees have not been transferred yet, in a circumspect way they will be transferred".
Vitsas thanked the regional actors in support of refugees, as well as the staff of the armed forces, police and port authoritiy, which, as he mentioned, have taken a heavy burden on their shoulders and they manage giving their best.
After that, Vitsas left for the Hospitality Center in Filippiada.