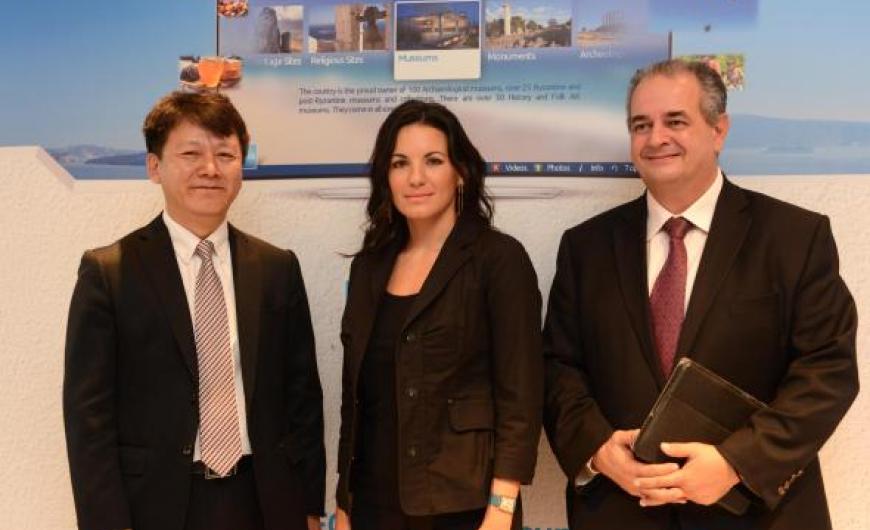 By Spiros Sideris – Athens
The Greek National Tourism Organization and Samsung Electronics Hellas announced today their cooperation in providing the service "Visit Greece" through Samsung Smart TVs.
The new app is aimed at a modern and dynamic promotion of the country's tourism, both locally and internationally.
The event was addressed by Greek minister of Tourism, Olga Kefalogianni, who said: "through 'Visit Greece', our goal is to promote Greece as a unique tourist destination for all seasons. We feel very positive for the fact that Samsung acknowledged and appreciated the dynamics of Greek tourism the content visitgreece.gr, and its contribution to the rise of Greek tourism in the last two years.
Digital television brings to the home of millions of households the technology which combines with television programs and popular applications (apps) that more and more consumers use. All these are used to benefit the Greek tourism".
Available through Samsung's Smart TVs, the application inform potentials visitors of Greece, for its natural and cultural wealth, directly from their living room. Viewers have instant access to video and photographs of Visit Greece, receiving useful information for every corner of the country.
The application stands out for its simple design and the immediacy of access to information, allowing users to easily navigate in an environment rich in images.
Its content is structured into thematic categories, so that anyone can find the information they want easily. The information available to the application "Visit Greece" covers everything a potential visitor will want to know: gastronomic, traditional products and recipes, museums, sites of archaeological and cultural interest, entertainment, sports, shopping, and advice on destinations, highlighting Greece as an ideal choice for any time of the year.
The President of Samsung Electronics Hellas, Mr. Choongsoon Lee said: "It is worth noting that Samsung actively supports the Greek tourism, and we believe that will play a key role in the recovery of the Greek economy", and continued: "the application "Visit Greece" is a modern way of international promotion and aid of Greek tourism. We are very excited about our partnership with ESO and the role of Samsung Smart TVs as the digital platform for the promotion of tourism in the country".
With the app;ication "Visit Greece", EOT and Samsung have the vision to upgrade the services of Greek tourism, through a user-friendly and attractive platform that highlights the tourist product of Greece.
In addition, the application provides the ability to display targeted content, such as documentaries and specials.
The application "Visit Greece" is already available in 42 countries in Europe, and procedures have started for its availability in the USA, Australia, South Korea, Brazil and New Zealand.