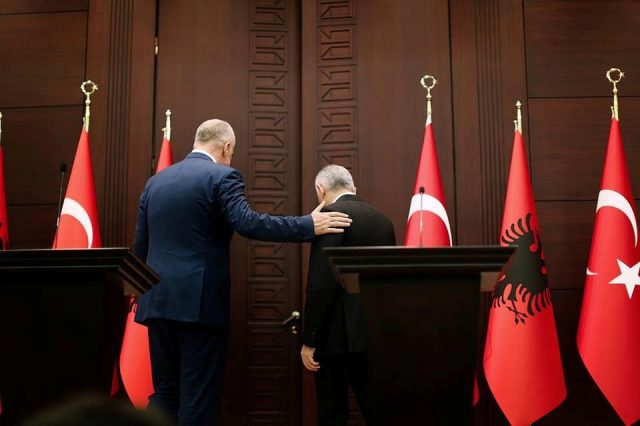 Tirana, 30 June 2016/Independent Balkan News Agency
By Edison Kurani
The visit of the Albanian Prime Minister in Turkey didn't occur in the best moment, however it went according to the agenda.
Edi Rama landed in Ataturk airport in Istanbul during the time when the wave of terrorist attacks and the gun fire occurred, leading to 41 dead and 150 others wounded.
Rama escaped to these attacks and departed for Ankara where yesterday, he met with President Erdogan, the Speaker of Parliament and then the new Turkish Prime Minister.
This was the first visit that a Prime Minister holds in Turkey following the appointment of Binali Yildirim.
The meeting didn't only discuss the terrorist acts, but also the relations between the two countries and the great potential of this special relation between Turkey and Albania, like Mr. Rama called it.
Prime Minister Rama once again repeated the term "strategic partnership" between the two the countries which have many things that bring them closer, join them, but also many things that they can do together.
Although not even a single joint meeting between the governments has taken place, as it was promised when Rama announced Turkey Albania's strategic partner, he tried today to convince Turkish authorities that relations between the two countries are excellent.
Rama assured the Turkish PM that Albania is a country entirely open for Turkish investors from every sector.
"We also spoke of the banking sector. We spoke of what we can do together in terms of projects, not only national ones, but also regional ones which relate with energy and for the arrival of more companies that open new jobs and which benefit from a favorable taxation system and with a favorable geographical proximity", Mr. Rama said.
Rama also talked about the creation of new economic areas for the businesses of both countries. Meanwhile, he also spoke of a new age between the two countries: "We believe that we're in circumstances when we can open a new page in this cooperation. Time was needed to open the eyes of Turkish investors toward a country which up until yesterday offered very little guarantee or where many Turkish companies were not willing to come back, unhappy with the way they have been treated", Mr. Rama said.
On the photo: Rama and his Turkish counterpart coming out of a press conference