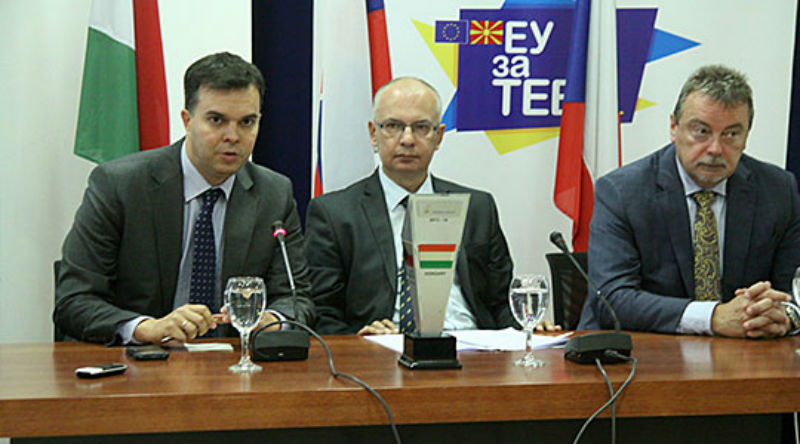 "We expect good news next week, Macedonia to start accession talks with the EU. We will help as much as we can, because the country needs to become a full member as soon as possible and the agreement with Greece is only an additional, a strong incentive in this direction", Hungarian Ambassador László Dux and Ambassador of the Republic of Slovakia Henrik Markus said Wednesday at handing over event of Visegrad Group (V4) presidency.
Dux and Markus underlined that Visegrad Group is a strong supporter to EU enlargement. Time is more than real and choice is clear when it comes to Macedonia's membership.
"The opening of accession negotiations should begin in any case, although the agreement with Greece provides an additional, great contribution to this direction. We regret the fact that the negotiation process did not begin many years ago," Markus said answering journalist question.
Besides EU enlargement, security, long-term solution of problem with migrants, promotion of unity and respect of differences will be among the priorities of the Slovakia's presidency of the V4 in the next 12 months. The focus will also be on energy, food, climate change, smart digital solutions and innovations.
The current holder of the rotating Visegrad presidency is Hungary. Slovakia will take over from 1 July 2018 to 30 June 2019./IBNA