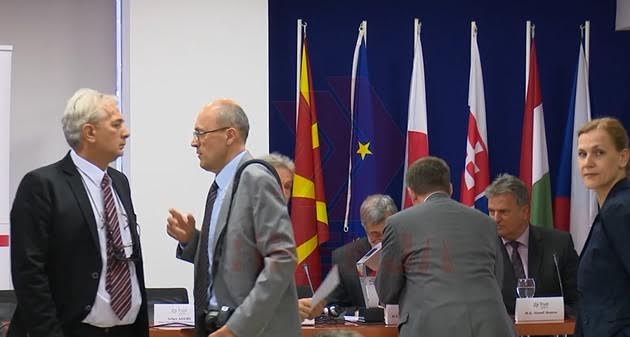 Skopje, 28 June 2016/Independent Balkan News Agency
By Naser Pajaziti
The ambassadors of the Visegrad Group countries, who have met in Skopje, say that Great Britain's departure from the EU doesn't stop the efforts of the Balkan countries to adhere to Euro Atlantic structures.
Czech ambassador to Skopje, Miroslav Rames says that in spite of the Brexit, the integration process doesn't stop.
"Nothing has ended. Life continues. One country leaves, but this doesn't mean that another country cannot be accepted. The foreign policy priority for the Czech Republic is the EU expansion with the countries of the Western Balkans and I can tell you that we will continue to support them, Macedonia's ambitions for EU and NATO integration", Rames said.
The Polish ambassador, Jacek Multanowsi said that all the consequences of Britain's exit from the EU must be overcome.
"Poland has always been a supporter of open projects which means that we support integration of the Western Balkans in the European Union, including Macedonia", said the Polish ambassador to Skopje, Jacek Multanowski.
The same opinion is also shared by the deputy Prime Minister for European Affairs in FYROM, Arber Ademi, adding that the country will continue its path of European integration.
"The UK's decision to leave the European Union must not be reflected in the EU's expansion policy, is this is of a great importance for Western Balkan countries, including Macedonia, to continue their reforms and become part of the European family", said deputy Prime Minister Ademi.
These opinions were given on the occasion of the start of the Polish presidency in the Visegrad Group, whose members are the Czech Republic, Poland, Hungary and Slovakia. This group was formed to support expansion policies in Eastern and Southeastern Europe. /balkaneu.com/