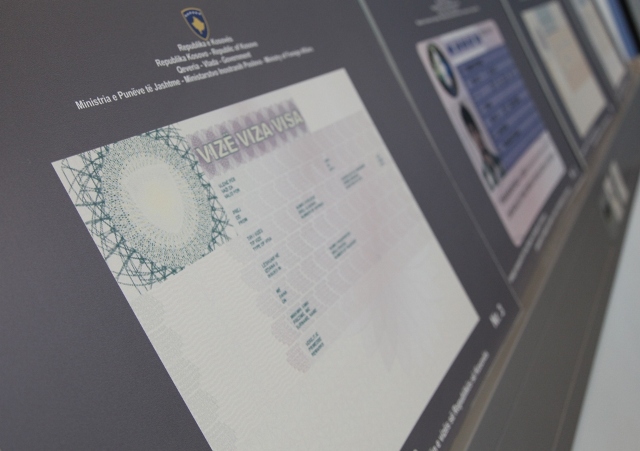 Pristina, June 5, 2013
The first visa of the Republic of Kosovo was presented today in the premises of the Government of Kosovo.
Following a competition, the Norwegian IMG was announced the winner of the project. This organization operates on behalf of the Ministry of Foreign Affairs of Kosovo.
The introduction of visas for the citizens of 87 countries is an obligation of the Ministry of Foreign Affairs of Kosovo and Foreign Minister Enver Hoxhaj declared that in conformity with legal deadlines, the system will be launched as a pilot project in the General Consulate in Istanbul, from where many passengers from Africa and Asia arrive to Kosovo. Until the end of the year, Kosovo will entirely implement the visa regime, thus introducing a safe system of arrivals and departures in Kosovo.
The committee led by the Minister of European Integration, Vlora Çitaku and the personnel of the Consulate Department of the Ministry of Foreign Affairs along with the Norwegian party have selected the appearance of the Kosovar visa, based on the anonymous applications and the technical conditions set during the competition. The new visa of the Republic of Kosovo will bear all security measures and it will be printed on special paper which is also used for banknotes. This visa will also have the main symbols of Kosovo.
The winner Antuan Kurti is the Kosovar designer who lives in Belgium. The Kosovar Shpend Berbatovci came second and Norik Rizaj came third.
During the presentation of the design, minister Çitaku declared that, "Kosovo must build a good system of asylum seekers, a system of re-integration of our citizens who are repatriated from EU countries, we must fight corruption and organized crime, but we must also get ready to become members of the Schengen Area, applying a visa regime for the third world countries, the citizens of which may use Kosovo as a platform for illegal emigration in the EU." /ibna/