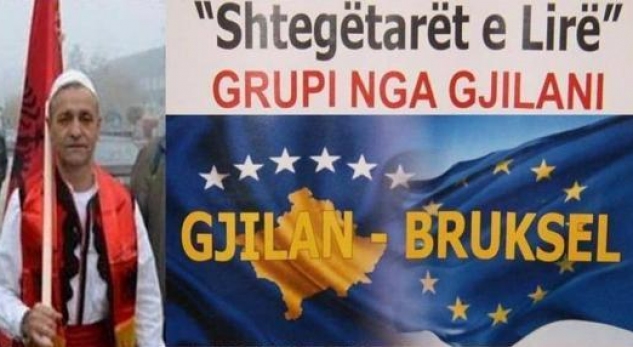 Pristina, May 5, 2014/Independent Balkan News Agency
By Elton Tota
5 Kosovo citizens have embarked on a journey on foot to Brussels, where they will demand from the European Union to make another step: to lift the visa regime for Kosovo citizens. They have embarked on their journey which will last 78 days (around 2500 km) in order to take to Brussels the message of 1.7 million citizens of Kosovo for the liberalization of the visa regime.
Representatives of "Free Travellers" group, Ekrem Avdiu, Nazim Ajdini, Jahi Mustafa, Xhevdet Shabani, Liridon Basha and Reshat Rexhepi, says that they have embarked on a difficult mission, in order to promote the liberalization of visas for Kosovo.
The leader of this group, the 55 year old, Ekrem Avdiu says that every step they take is a step closer to the removal of the visa regime.
"We will take 5 million steps for a step which must be taken by EU. Our mission will be a peaceful one and its symbol lies on the unification of nations. In all the countries that we will go through, we will bear the flag of Kosovo, the national flag, the EU flag and the flag of that country in which we're going through", declared Avdija.
Nazim Hajdini is an entrepreneur who has joined the group. "All the citizens of the western Balkan travel without visas. Young people need the freedom of movement. The people that see us, support us. This gives us strength to continue our journey", says he.
Their journey didn't start in an easy way, because although they were under police protection, they were attacked by several young people in Gracanica. "Thank God we're well and proud to be doing this", says Avdiu.
These missionaries have started their journey on April 30, 2014 from the "Agim Ramadani" square, in front of the Theater of Gjilan, while their arrival in Brussels is expected to take place on July 17, 2014.
Brussels has declared that institutions of Kosovo have made progress in meeting the criteria for the lifting of the visa regime, but there's also a lot to do. Meanwhile, prime minister of Kosovo, Hashim Thaci says that this issue now is merely political. /ibna/