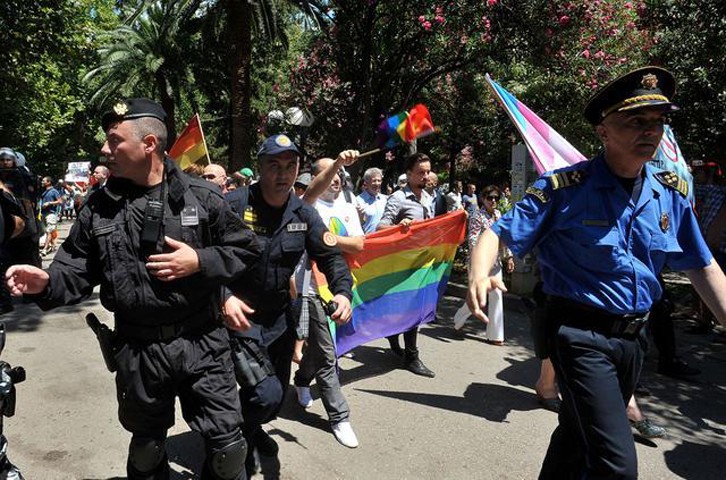 Budva, July 24, 2013
Incidents have been registered on Wednesday in the tourist town of Budva in Montenegro, following a parade called "Pride Parade" organized by a number of persons who support the rights of homosexuals.
The parade (photo) was held within the walls of the ancient town of Budva on Wednesday afternoon and was organized by the LGBT "Progress" Forum.
During these days, several newspapers published news and photos which mocked several activists in favor of homosexuals.
The government of Montenegro has called for tolerance and announced its presence in the parade with its representatives.
The embassy of Great Britain announced that it would send its representatives in support of this parade.
Authorities had taken measures and more than 400 police officers monitored the parade.
During the parade there were incidents between opponents of the LGBT community and supporters, reports IBNA correspondent. Several hundred protestors chanted "Kill homosexuals". Strong objects such as glasses, bottles, stones and eggs were used during the clashes.
As a result, there were several wounded people, while police arrested at least 12 persons from the group that was involved in the incident.
The executive director of LGBT "Progress" Forum, Zdravko Cimbalevic said that Budva's and Podgorica's manifestation are a test to understand if the state of Montenegro and its society are mature enough for democratic changes and to respect human freedoms and liberties.
Aleksandar Zekovic, another leader of the Forum, said that the research conducted by this organization showed that a small number of the members of LGBT community support public rallies and that a very small number is prepared to participate in them.
In fact, participation on Wednesday's parade in Budva was very small and the clashes with the heterosexual community were strong.
The organizers said that a bigger parade will be organized in the month of October in the capital, Podgorica. /ibna/