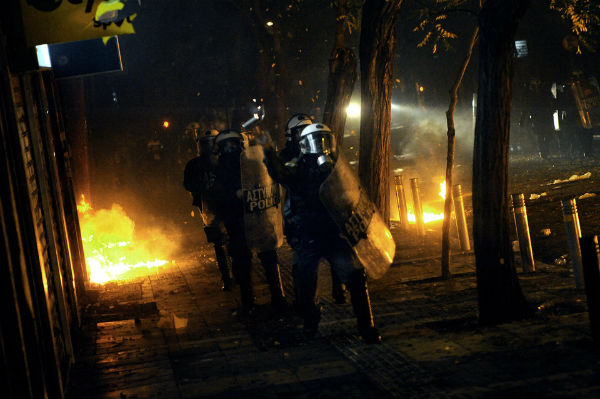 Athens, July 16, 2015/ Independent Balkan News Agency
By Spiros Sideris
Violent clashes took place in Syntagma Square on Wednesday between antiauthoritarian goups and the police. The clashes resulted in a van of a television station, which was located in front of the national gardens and a car in Syntagma Square, catching fire. Windows of shops and ATMs were also damaged. The Police arrests 40 persons.
Earlier on Wednesday, protesters who participated in the concentration of ANTARSYA and ADEDY, opposing the vote of the agreement, threw Molotov cocktails at the police who replied using chemicals.
The rallies were held Wednesday in Athens and other major Greek cities to support the 24-hour strike of ADEDY to protest the measures requested by the Institutions.
To the call of ADEDY responded other trade unions and leftist organizations such as WTO TABs, ANTARSYA, youth of SYRIZA etc.
March with the slogan "no to the new barbaric Memorandum – with the monopolies or with the needs of the people, there is no other way" made members of PAME from Omonia to Syntagma Square.
IN the protest participated in large numbers and passion, students and organizations from various districts of Attica, teachers and trade unions of many branches with their banners.
Four persons arrested near the offices of SYRIZA
Police arrested four persons, who were very close to the offices of SYRIZA, in Koumoundourou Square.
Reportedly, these people held banners, which they intended to hang at the offices of SYRIZA.