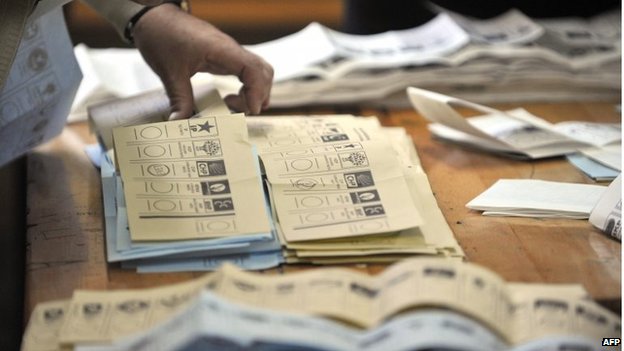 Twenty six-year-old mayor in the city Cizre – Her father had been killed by security forces
Turkey's fist communist mayor
By Manolis Kostidis – Ankara
Violent episodes were caused in Ankara in front of the Higher Election Commission, with thousands of Turks demonstrating in front of the building and the police exercising force to disperse the crowd using tear gas and water vehicles.
The Turks protest as the candidate of the main opposition, Mansur Yavas, argues that there was fraud in the elections, having lost the municipality of Ankara by half a percentile point to his rival Melih Gokcek, who is the candidate of the AKP in the city.
It is strange however that the vote count has stopped and 48 hours after the end of the electoral process 98.5 % of the votes has been measured. Interior Minister, Efkan Ala, went into building of the Commission to intervene .
In Istanbul, Turkey's largest city with 10 million voters, the vote counting and announcement of the final results has already been completed since Monday night.
The Kurds are the winners of the elections along with the AKP, having won most of the municipalities in southeastern Turkey. They also have another reason to cheer. They elected 20 women mayors in the male dominated societies of southeastern Turkey, a fact they consider indicates that something is changing among them. The 26-year-old, Leyla Imret, is the most interesting case. Twenty one years ago her father had been killed by the intervention of the security forces in their home in the town of Cizre. Then, along with her family, she was forced to emigrate to Germany. Now she has been elected the mayor in Cirze with 83% of votes.
The first communist mayor in Turkey
Turkey for the first time in history has elected a Communist mayor. The 46-year-old, Mehmet Macikoglu, was elected mayor of the region Ovacik, in the city of Tunceli in eastern Turkey. He was a candidate of the Communist party of Turkey, which got almost 0.4% of the votes. "Our region was known as Communist; now my election has confirmed that", he says and promises free transport and the reduction of unemployment .
In Yalova there is a great battle going on as the candidate of the AKP, Befa Salman, was elected mayor with a difference of one vote from the rival candidate of the CHP, Bilgin Kocal. Already the opposition has filed an appeal and all ballots will be counted again.
Recep Tayyip Erdogan, after meeting with President Abdullah Gul at the mansion Tsankagia, appears to be considering making a reshuffle of the government. According to the Turkish newspaper Taraf, the prime minister will "punish" the ministers who were not involved "in the battle against the Gulen". He, however, seems prepared for his final goal, which is the candidacy in the presidential elections to be held next August.