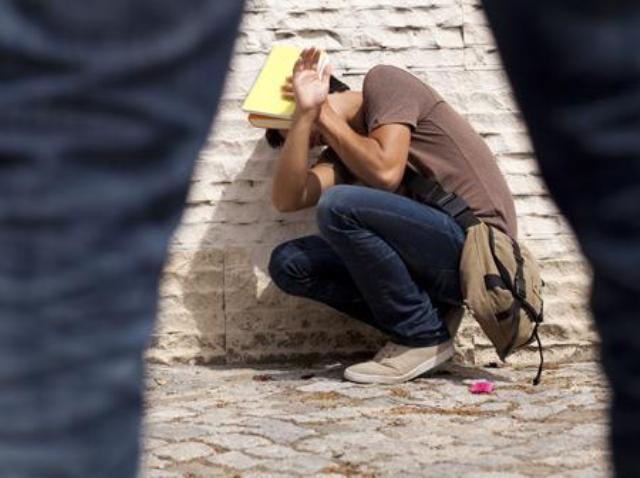 Pristina, March 3, 2014/Independent Balkan News Agency
By Elton Tota
Violence in schools which often degenerates into physical clashes amongst youngsters and often leads to deaths, has turned into one of the most worrying phenomena in Kosovo.
Neither the introduction of CCTVs, nor the presence of police in schools have not managed to reduce the number of violent conflicts between teenagers in educational institutions.
In February, police of Kosovo has received 74 reports for violence caused in incidents involving elementary and high school students.
Kosovo police spokesman, Brahim Sadriu says that compared to past years, the number of violent cases between students which have resulted into fatalities, has increased.
Sadriu says that given this situation, police have taken the necessary measures.
"During the start of this year, there have been severe incidents in schools. Based on this situation, police has mobilized and in cooperation with regional directorates, a number of meetings have taken place with parents, educational directorates and communes in order to coordinate and move forward with joint actions in order to prevent these cases", underlined Sadriu.
Sadriu also said that police of Kosovo have also worked in the operative aspect.
Upon the order of respective prosecutors, there have been operations to search students and this has resulted in the seizure of different things, especially cold weapons.
"As far as reported cases are concerned, in the month of January alone there have been 74 reported cases, which means that there's been a growth. If we refer to previous years, in comparison to 2012, 2013 has seen a fall in the number of reported incidents", adds Sadriu.
Students experience insecurity
Vlora K, a student, says that violence against children from other children is manifested and reflects domestic violence in the families of those children. According to her, violence is unacceptable in schools and there must be an institutional awareness of children through particular programs.
"I believe that there's violence in schools and this is a reflection of domestic violence. I don't think that the school is a safer place because nobody addresses this concern. Neither school personnel, nor teachers pay attention to the fact that children manifest violence against each other.  I think it would be better if there were special programs, which would prepare children in relation to this phenomenon", says Vlora.
Even Arlinda, 25 years old, says that violence in schools exists:
"Yes, I believe that there's violence. I think that public schools are not safe, because doors are open at all times and everyone can have access".
Families of students are worried
Families which have been affected by this phenomenon say that violence in schools is caused by the lack of security in the educational institutions of Kosovo.
Merita Luzha, a citizen, says that violence of children against other children is manifested and reflected by violence that exists in the families of those children.
Meanwhile, Xh. Mehmeti from Pristina, parent of two children who attend high schools in the city, says that the government of Kosovo and competent authorities must work more and draft a strategy to offer more safety in schools.
"All parents are worried. Children leave for school, while as a result of the insecurity that exists there, they can come back home beaten and covered in blood. I believe that through cooperation between competent institutions there can be a solution", says Mehmeti.
Concerns reach parliament
Growing violence in schools has been discussed in the past few days in the parliament of Kosovo.
MPs have demanded for schools to be secured in the physical aspect.
According to MPs, violence in schools comes as a result of the lack of a strategy of security in educational institutions.
Minister of Interior, Bajram Rexhepi says that frequent patrols in schools are necessary, but as far as violence is concerned, he says that preventive measures should be taken before they take place.
Minister of Education, Science and Technology, Rame Buja says that everything is being done to offer security in the 1161 schools of Kosovo.
Experts of psychology say that there are a number of factors that are causing the growth of violence in schools.
Psychologists say that violence is being tolerated
Psychologist, Dashamir Berxulli, professor at the University of Pristina says that one of the most important factors that encourage violence in schools is social tolerance toward the phenomenon of violence.
"Society in Kosovo now shows a greater tolerance against violence and youngsters refer to society and express their frustration and aggressiveness against their peers. Society must pay more attention to the young generation in order to better manage their energy, which is a negative one, in order to express themselves in more creative activities, which make them manifest a better performance in their studies and a better social behavior", says Berxulli.
According to Berxulli, the number of students in schools and lack of psychologists in schools are some of the factors which are having an impact in the situation that exists in the schools of Kosovo. /ibna/