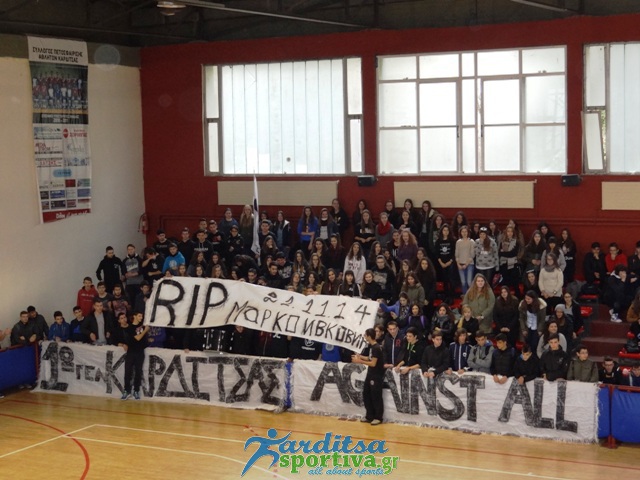 Karditsa, December 3, 2014 / Independent Balkan News Agency
By Spiros Sideris
Thousands of kilometers away from the seats of Galatasaray and Red Star Belgrade, the students of two Lyceums of the city of Karditsa in Greece, in the final of the school basketball championship, held a minute's silence in memory of the Serbian football fan Marko Ivkovic who was murdered in Istanbul, by hooligans.
With the slogan "violence kills sports", the 1st Lyceum of Karditsa and the Palama high school joined their voices against violence, which is starting to reemerge in stadiums of late.
The truly commendable move was matched by all -with no exemption- attendees at the Municipal Gym of Karditsa, causing emotion and highlighting the sensitivity of children to social issues of sports interest.
The young students gave a lesson to the big stars of the Greek championship, when a similar requests from the basketball team Olympiakos for a minute's silence in memory of Serbian football fan, was not accepted by the team PAOK, causing negative comments on social networks.
For the record, the match between the 1st Lyceum of Karditsa and Palama high school ended with the victory of the first with 51-40, crowning them champions of the county of Karditsa.
1st Lyceum of Karditsa: (G. Karvounis): Pappas 19, Amvrosiou 8, Athanasopoulos 18 (2), Tsiamis 2, Michalakis 4, Georgitsis, Gakias, Papakostas, Paizanos, Kotrotsios, Arvanitis, Kolovos.
Palama Lyceum: (K.Serifis): Kostopoulos 11, Tsironis 3, Gkovaris 16, Daskalopoulos 4, Karamitzios 2, Papavasiliou 4, Tsimourtos, Sakellariou, Psihas, Kousiantzas, Tsioras, Akrivos.
Photo Karditsasportiva.gr