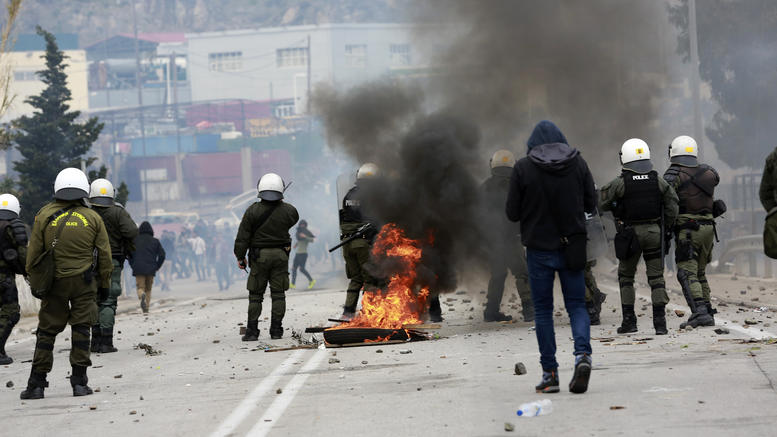 Violence broke out on the island of Lesvos on Monday as migrants and refugees being accommodated on the island protested the circumstances in which they are residing in Greece.
About 2.000 asylum seekers complained about their stay over two months at camps in Moria and Kara Tepe. The protestors lit fires and blocked off roads, while police forces tried to break up their march using tear gas.
The protest caused the reaction of local residents who took to the streets to show their disgruntlement, while later on Monday evening, furious residents visited the Moria town hall to complain.
According to local reports, the regional governor of the Northern Aegean, Costas Moutzouris and Mytilene mayor Stratis Kytelis organized an ad hoc town hall meeting where it was decided to escalate mobilizations in order to get the attention of the government.
Residents are demanding that police forces increase surveillance and patrols in the village of Moria, so as to control the number of migrants entering the village. Moreover, they have demanded that action is taken to reduce the number of migrants and refugees at the Moria camp, before it can gradually be shut down.
Immigration Policy Minister Notis Mitarakis said an investigation is underway to determine whether the violence that broke out on Monday was in any way incited by third parties. He added that the incidents confirm the urgent need to accelerate asylum procedures and the return of those who are not eligible, as well as the need to operate closed and controlled reception centers.
On its part, main opposition SYRIZA said the government must restore living conditions at refugee centers and make moves to decongest the eastern Aegean islands that have received a disproportionate flow of migrants and refugees compared to mainland Greece./ibna