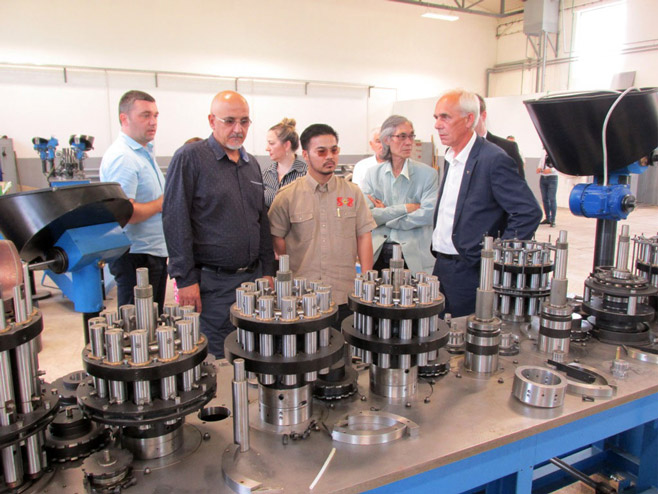 A business delegation from Vietnam, headed by the chairman of the Sapa Thale Group Corporation, Mai Vu Minh, visited on Thursday the Tehnički Remont/TRB/Company in the city of Bratunac, and was briefed on the Company's business operations, development plans and achievements, and of prospects for mutual cooperation and investments.
"You have quality defence products and our representative offices in Germany and Vietnam will present your Company and its products to the whole world," Vu Minh told reporters in Bratunac after a meeting with the management of TRB and the visit to the production facilities.
He has said they are impressed by the presentation and hospitality in this Bratunac Company.
"We will analyse impressions, discuss prospects for investing, secure funds for investments and invite the Serb member of the BiH Presidency Milorad Dodik and the director-general of TRB, Slavenko Ristić, to visit Vietnam in order to concretize future cooperation," said Vu Minh.
The executive director of TRB, Marko Mrkajić, has said they informed the Vietnamese delegation about the Company's production programs, plans and possibilities, and discussed prospects for cooperation.
"Today we presented the production program, demonstrated our production capabilities, discussed the future cooperation, and the possibilities of their investment in expanding our business. It is important to note that our guests from Vietnam have already stayed in the past days in some of Republika Srpska institutions and in other companies, where it was agreed to invest in other production branches, which would be of great importance for the entire RS," said Marko Mrkajić, executive Director of TRB.
Representatives of the delegation from Vietnam, with representatives of the TRB, visited the line for the production of a multipurpose vehicle "Despot", a facility for the production of ammunition called "Drina", and the "Vampire" gun production line.
This Vietnamese Company is known in the world by investing in various fields, and during a five-day visit to Republika Srpska, its representatives were informed of the needs and prospects for investing in various branches of the economy.
Tehnički Remont Bratunac is well known in the field of military and defence equipment production. Their last products, the Vampire gun and Despot vehicle were presented on the world's most famous fairs of this industry.
BiH has several factories that are in this kind of industry but most of them are in Federation BiH./ibna