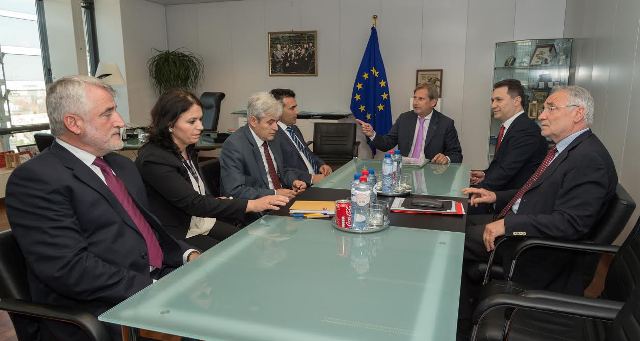 Skopje, 22 April 2016/Independent Balkan News Agency
By Naser Pajaziti
Although a meeting was scheduled to take place in Vienna between the four main political parties in FYROM and the EU Enlargement Commissioner, Johannes Hahn, this attempt to solve the deep political crisis in FYROM has failed.
Through a joint press release along with the three MEPs, Eduard Kukan, Ivo Vajgl and Richard Howitt, the EU Enlargement Commissioner Johannes Hahn announced the failure of this meeting yesterday.
The EU representatives said that the European Union is looking into the possibility of taking further steps on the developments in FYROM.
"The current problems with the rule of law in Skopje, which fail the agreement, must be immediately solved. This is especially linked to the amnesty granted by president Ivanov and the steps that must be taken in order to prepare elections which must be accepted by the international community", Hahn said.
Hahn also said that the violation of the Przino Agreement reached last June will have serious consequences about the country.
The largest party of the opposition SDSM (Macedonian Social Democratic Union) was the one to condition the meeting in Vienna. "We condition our participation in Vienna with two things. We ask from president Ivanov to withdraw his decision for the pardoning of politicians and postpone the election date", said the spokesman of SDSM, Petre Silegov.
PDSH (Albanian Democratic Party) blamed the three political parties that signed the Przino agreement, VMRO-DPMNE, SDSM and BDI for failing the efforts to solve the political crisis.
According to PDSH, these parties, as part of the interim government, are taking the country toward an even deeper crisis.
Artan Grubi, head of cabinet of the BDI's chairman, Ali Ahmeti said that there must be a rapid solution of the crisis.
"Crisis in Skopje must be solved immediately by responsible politicians. We are part of the efforts of the international community to solve the crisis", Grubi said.
Party of the former Prime Minister Nikola Gruevski, VMRO-DPMNE blamed the leader of Macedonian opposition, Zoran Zaev for the failure of the Vienna meeting.
"By sabotaging the Vienna meeting, Zoran Zaev showed that for him, his personal interests are more important than the interests of the citizens. An opportunity was missed to implement the agreement that we have signed", said the senior member of VMRO-DPMNE, Antonio Milososki.
Other political parties have also reacted following the failure of the Vienna meeting, by demanding the solution of the crisis.
The EU has not given any details as to whether there will be a fresh attempt for a meeting between the four main political parties in FYOM. /balkaneu.com/