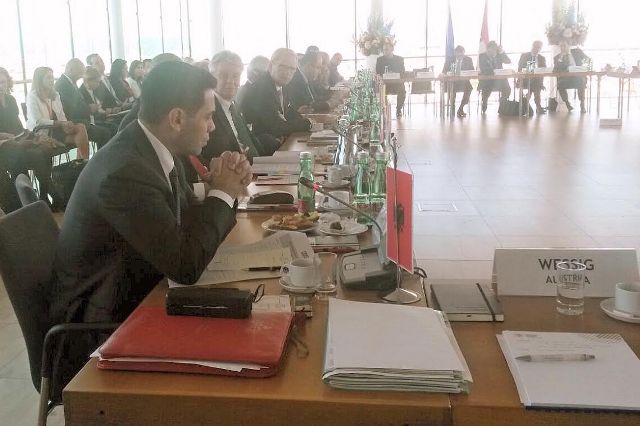 Tirana, 27 August 2015/Independent Balkan News Agency
The Vienna Summit has started today its proceedings with discussions on economy. Six countries of the Western Balkan, represented from Ministers of Economy and 6 EU member countries, Austria, Germany, etc, sat in a roundtable in front of the presidents of Chambers of Commerce and Industry of the region and 11 CEOs of large Austrian companies.
The meeting focused on regional economic integration, on suggestions about concrete domains and projects of cooperation, but also on the way how foreign companies see the Balkan region.
Christoph Leitl, president of the Austrian Chamber of Commerce, said in his opening speech, that the European Union cannot be complete without Western Balkan. "New realities bring new opportunities and challenges, that we must address together", Leitl said.
On his part, Commissioner Hahn stressed the structural reforms that Balkan countries have been engaged to deliver with the aim of guaranteeing economic growth and stability, while saying that energy, renewable energy, promotion of enterprise among young people and professional training must be seen as domains in which both the EU and the region is interested on.
Speaking about the Albanian economy and the region and answering to the questions addressed by business representatives, minister Ahmetaj said that governments and companies must contribute to help economic growth of the countries. The minister stopped on structural reforms, which according to him, gave guaranteed the return of macroeconomic and fiscal stability and which are contributing for the economic growth of the country.
"10 years ago, almost 80% of the economy of the region was supplied through crediting. Today, the level of crediting has significantly dropped in the levels of 10 years ago, however, our economies are growing. This is the result of structural reforms in the economy and also of Direct Foreign Investments. To give you an example, in the first quarter of 2015, crediting was 2%, but economic growth was 2,82%, while Direct Foreign Investments registered the highest level in 20 years", Ahmetaj said.
Speaking on the business and investment climate, minister Ahmetaj said that he strongly believes on the deregulation of economy, removal of procedural barriers, reduction of bureaucracy and the reduction of time and cost for enterprises.
"Many of you are investors in Albania. I invite you to be direct with us and tell us what are the problems that you encounter. We are undertaking a deep deregulation reform. Any suggestion of yours would help this reform", Ahmetaj said.
Ahmetaj also mentioned the concessions that the new law on strategic investments and concessions will offer for investors. /ibna/