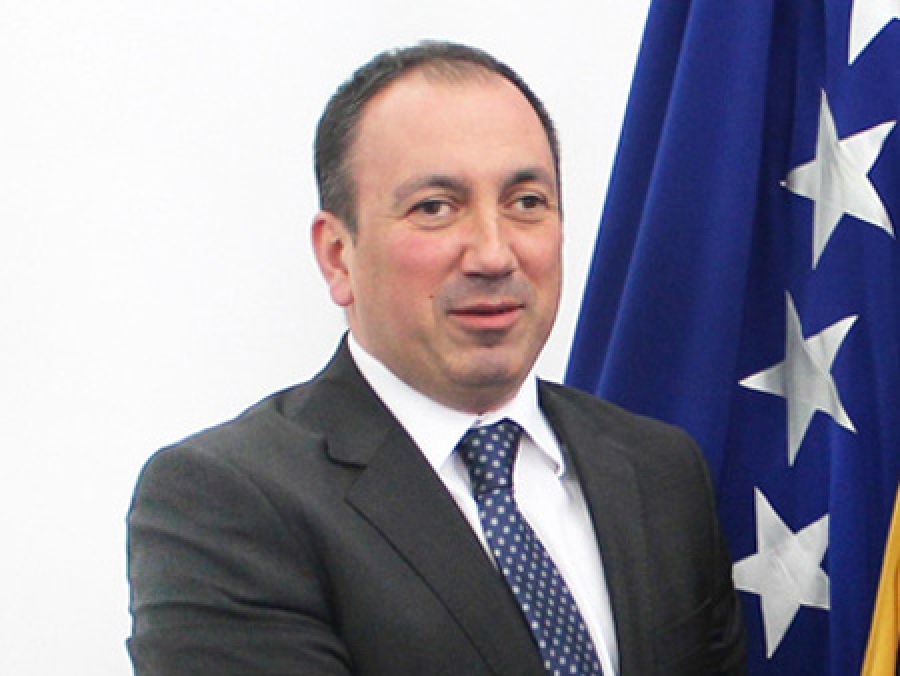 Sarajevo, August 6, 2015/ Independent Balkan News Agency
By Mladen Dragojlovic
BiH Minister of foreign affairs, Igor Crnadak (photo), stated on Thursday in Sarajevo that the international conference in Vienna, scheduled for August 27, will present a definite confirmation of European future of BiH and other Western Balkan countries.
On the press conference Crnadak said that the delegation of BiH Council of ministers conducts very serious preparations for this meeting as it is, as he said, one of most important events in foreign policy of the country this year.
"The focus of the meeting will be on traffic infrastructure in Western Balkan countries and it is very important that BiH present its projects in a proper manner", Crnadak said.
He added that BiH prepares projects about railways, roads, a bridge near city of Gradiska which will connect the highway Banja Luka Gradiska with Croatia, Sarajevo Airport and Brcko Harbour. Crnadak said that he is convinced that the delegation will come from Vienna with good news for BiH citizens.
A few days ago, the BiH Parliament adopted the 2015-2030 BiH Framework Transport Policy (FTP), and these projects are included in this document. EU Delegation in BiH welcomed the adoption of FTP in Parliament saying, in press release, that over the past years the EU has given increasing importance to connecting citizens and businesses across the EU in order to promote sustainable economic growth.
"The EU has extended this drive also to the countries of the Western Balkans, providing EUR 1 billion for developing and interconnecting transport and energy infrastructure in the next five years. Already this year, more than EUR 100 million is available as co-financing from pre-accession funds (IPA II) for all countries. This financial assistance, coupled with an offer of further loans and investments, will be available to upgrade or construct parts of the Core Network agreed by the six Western Balkans countries. For BiH, this Core Network includes the highway and railway along Corridor Vc and Highway 2a from Gradiska through Banja Luka – connecting with Corridor Vc south of Zenica. It also includes the Sava river ports of Samac and Brcko and the Sarajevo International Airport. Immediate priorities in Bosnia and Herzegovina for 2015 are construction of the cross border bridges at Svilaj and Gradiska, including border crossings and access roads", emphasise the EU Delegation in its announcement.
Crnadak informed reporters that the Vienna meeting will be important for BiH from one more reason.
"The ministry of foreign affairs is ready to fulfill its obligations deriving from the agreement on state borders with Montenegro", Crnadak said.
It in practice, this means that the case of Sutorina, which was reason for dispute between BiH and Montenegro experts and historians earlier this year, will not bring unnecessary tension in relations between two countries any more. The Agreement will be drafted by Crnadak and his Montenegro colleague, Igor Luksic. Chairman of BiH Presidency, Dragan Covic, who replaced Mladen Ivanic a month ago, and Montenegro president Filip Vujanovic, will attend the ceremony.