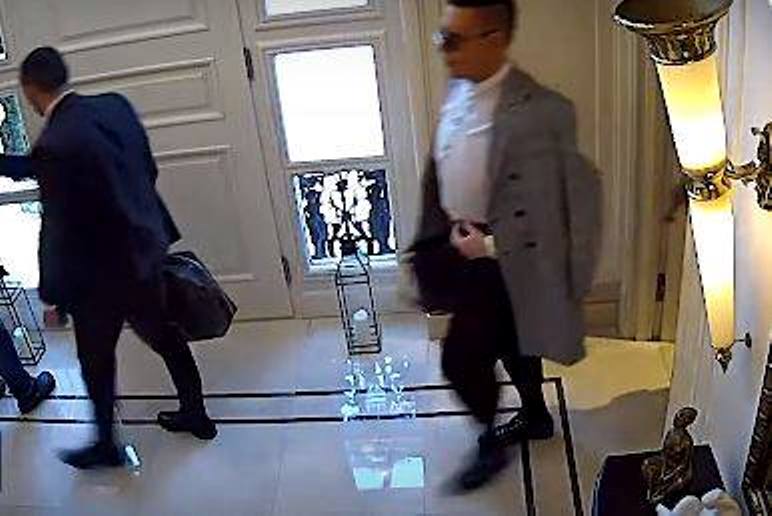 The Italian newspaper La Verita has published a video of businessman Jordan Kamcev paying part of the money to Bojan Jovanovski and Zoran Milevski – the two suspects in the Racketeering case.
The video released today consists of footage taken at Jordan Kamchev's home, as well as an audio chat between Kamchev and Jovanovski, which is allegedly attended by Kamchev's lawyer. The material is related to the "Racketeering" case in which Jovanovski and Milevski are suspected of extortion against Kamchev. Both are in custody, while Kamchev will testify against them.
The video begins with a cash count of 1.5m euros, which Kamcev pays to Jovanovski as a first installment. The money is packed in bags that are then taken by Jovanovski and Milevski from Kamcev's home, who sends them to the exit door. The second part of the material consists of audio footage allegedly discussed by Kamcev and Jovanovski.
In the conversation, Jovanovski announces to Kamchev that "he will be released by the Supreme Court on Monday, or no later than Tuesday".
It is not known where the Italian newspaper obtained the footage. The General Prosecutor's Office for Organized Crime and Corruption leading the "Racketeering" case does not specify whether they are aware and have the video footage released today by the Italian daily La Verita. Businessman Kamchev, along with former secret service chief Sasho Mijalkov and other associates, are charged by the Special Prosecutor's Office with criminal offenses: criminal association, abuse of office and authorization, fraud and money laundering.
But Jovanovski and Kiceec promised businessman Kamchev that they would close the investigation with the help of special chief prosecutor Katica Janeva. They had demanded 8m euros for this but received 1.5mln euros./ibna