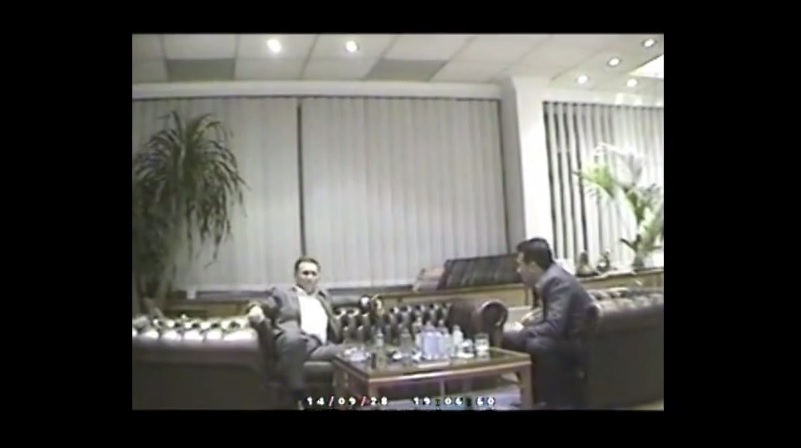 IBNA Special Report
Skopje, February 3, 2015/Independent Balkan News Agency
By Naser Pajaziti
A video footage which shows a meeting between PM Nikola Gruevski and opposition leader, Zoran Zaev has sparked debates and reactions in the Macedonian political camp.
The video appeared last night in social networks and spread in the media of the country. It shows a meeting between Gruevski and Zaev, who are talking about the evidence and materials that the opposition possesses and which allegedly serve as a proof for the scandals and affairs in which the current government is involved. Based on the conversation, the PM insists on learning if these materials have been secured through foreign secret services, while the opposition leader, Zaev, admits that he has secured them from foreigners, but he responds in an indirect way.
After the publication of the video, the Macedonian opposition immediately reacted, by saying that this video which was published by pro government circles clearly shows as to how PM Nikola Gruevski taps his guests.
"This video is a confirmation of the truth as to who eavesdrops in this country. This case shows how Gruevski operates and how all of those that visit his cabinet are bugged. The current government is eavesdropping thousands of citizens", said the largest Macedonian opposition party LSDM (Macedonian Social Democratic Union) through a press statement.
Party in power, VMRO-DPMNE has called on responsible institution to find out the source of the footage.
"We are seeing that the opposition is worried and that it wants to make its leader, Zoran Zaev come clean. Institutions must take all measures to find out the truth about all the footage and compromising materials secured from secret services", said VMRO-DPMNE.
Meanwhile, reactions have continued to come last evening from the international community, which demanded transparency and less political tension in relation to yesterday's political event, which can cause problems in the country. There have been reactions from the British, German and Russian embassy.
German and British embassy have stressed that they're worried about the accusations against the opposition leader, Zoran Zaev and three other persons, according to which, they have attempted to seize power through a coup d'etat.
"These accusations raise a question mark about the functioning of the democratic opposition. We call on the institutions in Macedonia to analyze these accusations in a fair and transparent way, in compliance with international standards. The independence of judicial institutions in this case is of a crucial importance", reads the reaction of diplomatic centers.
Meanwhile, the Russian embassy demands a complete investigation on this affair.
"We call on all political forces in the country to act in the framework of democratic institutions, while we encourage them to solve problems through dialogue. Deterioration of situation in this country would lead to tensions in cross ethnic relations", says the Russian embassy.
The transcript of the conversation:
Gruevski: You're telling me that you've secured it from foreigners?
Zaev: Yes, foreigners.
Gruevski: Foreign services?
Zaev: A foreign service… not belonging to a neighboring country….but farer.
Gruevski: Ok… You have been seen in a numerous occasions with them and you're convinced that it's like that?
Zaev: Yes, I'm convinced
Gruevski: Wait, you're saying that you haven't registered it yourself and that you have been given it? Foreigners have given it to you?
Zaev: Yes…
Gruevski: You have been given it from foreigners. Foreigners may have ulterior motives. Perhaps one of them has registered this and may have secured this through techniques or technology…
Zaev: Yes, there are different options. It may be…
Watch the video by clicking here