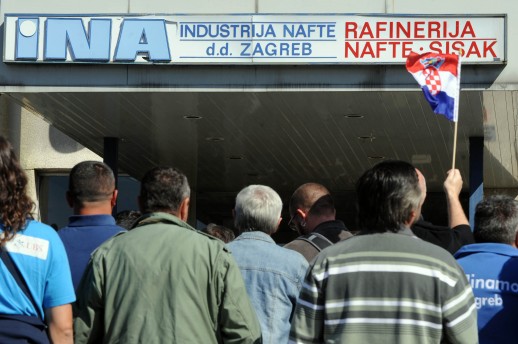 Zagreb, February 25, 2015/ Independent Balkan News Agency
By Marija Avramovic
After Sisak refinery was temporarily closed on January 14, it is now almost certain that the refinery will begin its operations again in April, confirmed Wednesday Minister of Economy Ivan Vrdoljak.
"I expect that production and processing at the refinery in Sisak to start in April because it is when warehouses will be filled with domestic oil", explained Vrdoljak.
The meeting of the Workers' Council of Ina is set for Friday, at which the Management Board will present this year's business plan for the refinery to the directors and employees.
When the refinery in Sisak was temporarily closed, the explanation that came from INA was that it was a usual temporary closure, which has been common practive for years when the warehouses aren't filled with enough domestic oil for further production.
However, this time the usual temporary closure in Sisak was greeted with apprehension, because in 2014 MOL tried to incite a decision on the final closure of this refinery to the Management Board of INA.
In September last year about 200 workers of Sisak refinery came to the administrative building of INA in Zagreb, while a board meeting was in progress, to express their dissatisfaction with the announcement of shutting down the Sisak refinery.
After that board meeting it still wasn't clear whether the administration of INA will decide on the closure or lengthen the whole process and require additional analysis.
Then INA's official position came saying that the company was carrying out a strategic analysis of the current situation in the refinery market and was analyzing its refinery system and that all options related to potential changes in refining business were open.
Members of six unions which are active in INA, called Prime Minister Zoran Milanovic in November last year to prevent the shutdown of Sisak Refinery and its conversion into storage of petroleum products from Hungary.
Vrdoljak then said that whoever wanted to buy MOL's share in INA should discuss with the Croatian government on the development plan for INA in order to lead business with that specific strategic partner and that everyone is welcome.
The commitment of the government to reach the best possible solution for the refinery in Sisak could be called the first real victory of the social-democratic government, the epithet which Milanovic has been using more often when speaking about the success of his government.