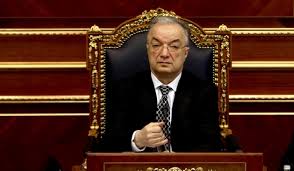 Pristina, June 7, 2013
In spite of the fact that Jakup Krasniqi has announced that he will leave the Democratic Party of Kosovo, many figures continue to consider Krasniqi as one of the most important figures of this political subject.
The vice speaker of the parliament of Kosovo who comes from PDK, Xhavit Haliti has not considered Krasniqi's departure as problematic, but has spoken highly of him. According to him, Krasniqi remains one of the most respected figures at PDK.
"He's the speaker of the parliament of Kosovo and comes from PDK, but it's been a while that he has manifested opposite attitudes to those with the party in power. Speaker of parliament Krasniqi continues to have his positioning and has announced that he may leave PDK and form a new political subject", said Haliti.
Haliti considered Krasniqi's positioning as a sign of the existence of democracy within the party.
"This is internal democracy. Mr. Krasniqi is one of the most emblematic figures of PDK and we will always respect him", said Haliti.
Meanwhile, Haliti hasn't said anything about the steps that PDK will take in this case.
"We have the party status which we must apply and we also have a regulation of the parliamentary group which we may consult at any case", said Haliti. /ibna/