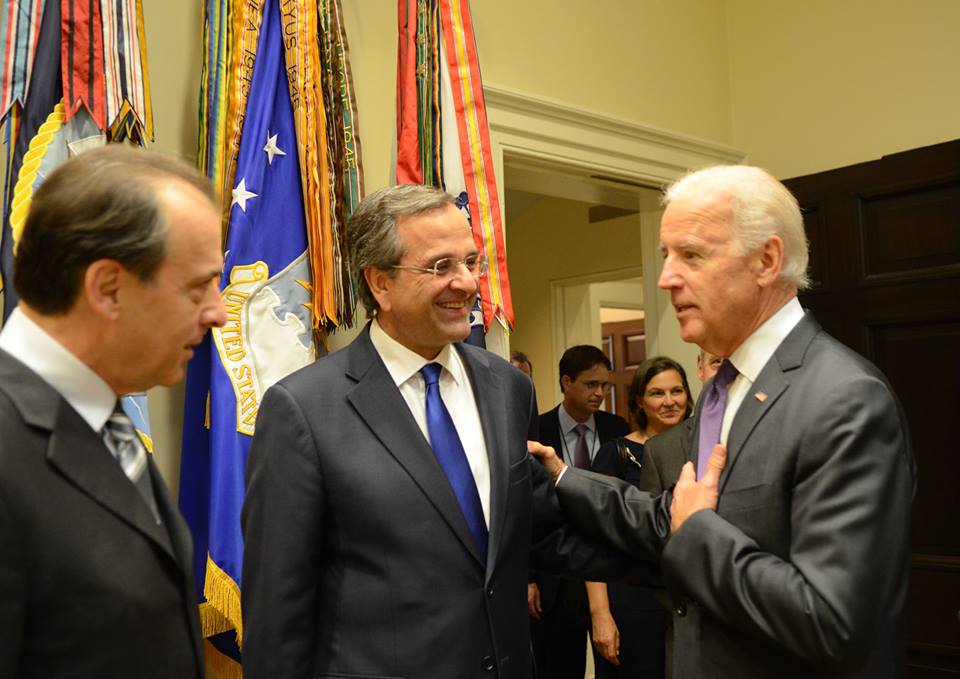 By Lefteris Yallouros – Athens
Greek Prime Minister Antonis Samaras held a meeting with US Vice President Joe Biden at the White House Wednesday afternoon in which the latest developments in the Greek economy along with the Cyprus issue and matters to do with energy were discussed.
The meeting went ahead despite the ongoing crisis in the US caused by the government shutdown.
The US Vice President commended the Greek Prime Minister for his "continued commitment to making the tough but necessary reforms to put Greece back on stable financial footing". Biden noted that "notable progress has already been made" in the economy and also pledged continued American support for Greece's efforts to make its economy more open and competitive.
The Greek premier highlighted the sacrifices made by Greeks in order to achieve the projected primary surplus and the structural reforms and restructuring of the banking system.
On the Cyprus issue, Samaras and Biden agreed to continue to support efforts toward reconciliation on Cyprus and in that context, the Vice President welcomed the recent decision of the Greek and Turkish governments to meet with Turkish Cypriot and Greek Cypriot negotiators, respectively, as a positive step towards helping the parties build trust.
As far as energy issues are concerned, the Greek premier expounded on the potential for exploitation of natural gas reserves in the Eastern Mediterranean.
The discussion on energy and relations between Greece, Cyprus and Israel on the energy front is strongly linked to developments in the Cyprus issue while Biden was also briefed on the Greek PM's visit to Tel Aviv on October 8th.