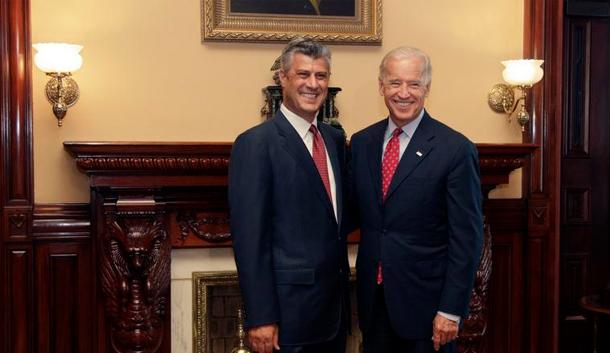 Pristina, April 23, 2014/ Independent Balkan News Agency
By Elton Tota
US vice President, Joe Biden has sent a letter to prime minister of Kosovo, Hashim Thaci, where he says that he encourages Kosovo to fully collaborate with the European Union for the establishment and Special Court on war crimes.
In this letter, Mr. Biden praises the progress recently made by Kosovo.
"I feel good about the recent progress of Kosovo, especially in terms of the constant talks with Serbia for the implementation of the April 2013 agreement. Your country has achieved a lot since the proclamation of independence in 2008. USA are proud of being Kosovo's partner in difficult times and we will continue to be beside you", writes Biden in his letter.
"In the spirit of this sustainable friendship, continues Mr. Biden, I'm writing to you to stress the importance of the work of EU, of the team led by ambassador Clint Williamson in investigating the allegations of senator Dick Marty presented in the 2010 European Council report".
"USA takes these allegations of crimes very seriously, continues the letter. "We believe that  it's important that you act upon them in order to make justice and for Kosovo to continue to move forward toward European integration", says Mr. Biden.
He adds: "Like you may be well aware, EU has proposed the creation of a court which will deal with any kinds of accusations which may come out from the EU led investigations. This court will demand a number of special and protective measures, as it was outlined by EU, including international judges, a court within and outside of Kosovo and other protective mechanisms for the protection of sensitive data. We strongly encourage Kosovo to fully collaborate with the EU in establishing this court and making it operational", writes Mr. Biden.
Vice President Biden says that he's aware of the fact that these investigations relate to sensitive issues.
"With Kosovo's support, EU investigations and the proposed court can help in opening a new page, by holding criminals responsible and by exonerating those who are innocent", says vice President Biden.
"President Obama and I praise your leadership in this issue. We're entirely committed for the success of Kosovo. You must be sure on our support for the sovereignty and territorial integrity of Kosovo and also the Euro-Atlantic aspirations", concludes Mr. Biden. /ibna/