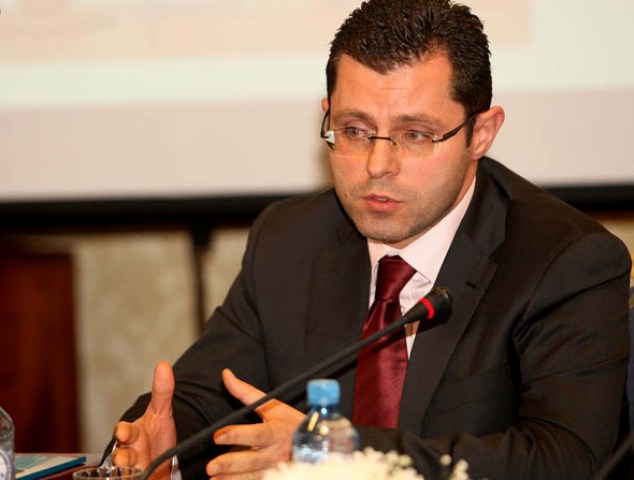 According to the criminal charge, the area recognized with a decision of ARCP, when Elvis Cefa was its head, based on forged documents, is 2000 hectares and its estimated value is nearly 100 million Euros
Tirana, July 31, 2014/Independent Balkan News Agency
In Albania, the vice chairman of the Supreme Council of Justice has been officially charged of abusing with office and with decisions concerning properties.
The charges were pressed by the Agency for the Return and Compensation of Properties (ARCP), which deposited at the Prosecution of Tirana the denouncement against the former head of this agency, Mr. Elvis Cefa (photo), who currently serves as vice chairman of the Supreme Council of Justice.
Based on the charges, Mr. Cefa is accused of abusing with office. This offense may receive up to 7 years in prison.
According to the criminal charge, the area, based on forged document, is 2000 hectares and is estimated to have a value of 100 million Euros.
Charges have also been pressed against Shefqet Preza, representative of the heirs of Preza family, for forgery of documents. "The legal heir of Preza family, Asim Haxhiallushi, has resulted to be a relative of the family of the former general director of ARCP, Elvis Cefa", said Alisa Demollari, spokeswoman of the ministry of Justice.
According to the lawsuit, former general director of ARCP, Elvis Cefa has violated the law on the return and compensation of properties through his actions and non actions, by causing negative consequences for the state and giving way to abuses with state properties.
ARCP says that it has identified an enlargement of the land in question located in the coastal tourist area of Ishem, in the Forest of Manza, by 330 hectares, in favor of the Preza family. ARCP also identifies an enlargement of the land in the forest of Muzhli and the forest of Biza, in the area of Ishem, Durres, where based on the forged documents, the appropriated land is 1200 hectares, as opposed to 220 hectares according to the original property documents.
"The former General Director of ARCP has had knowledge about the actions of the interested parties, through forgery and deceit at the detriment of state assets, by multiplying the lands belonging to the Preza family", says the lawsuit brought against Elvis Cefa.
Reaction of Elvis Cefa
It's been two years that Cefa is serving as vice chairman of the Supreme Council of Justice. In a statement relating to the charges that have been brought, he says that this is a political attack. "During the period that I have chaired ARCP, from 2009 until 2012, I have never made any decisions in favor of the subject in question. I consider this accusation an attack which relates to the post that I currently hold, an attack which reveals the true scope of the "reform" in the justice system, which now aims to "eliminate the heads" at the Supreme Council of Justice". /ibna/