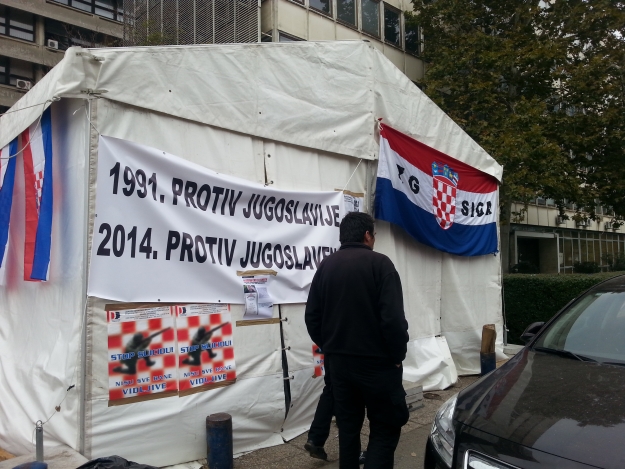 By Marija Avramovic – Zagreb
President of the Association of 100-percentage Croatian war disabled, Duro Glogoski, announced this morning at a press conference in the veterans' tent that they would not give up from their demands – the shifts within the Ministry of Veterans and the discussion on constitutional law about the rights of the veterans.
The defenders, who have been protesting for the third week in front of the relevant ministry's headquarters in Zagreb, together with some members of their familes, announced earlier that they would present some new facts at the press conference.
"Given that the Prime Minister claims that, if they have made a mistake it may be corrected, we will talk argumentatively. This is not a case of an error, because if something goes through the government and the Parliament then it's an aim and not a mistake. We will adduce concrete examples", Glogoski said earlier this week.
"As the Minister of Veterans Predrag Matic and Prime Minister Zoran Milanovic are recurring the question "What has the government taken away from the veterans?" my answer is that 100-percentage Croatian war disabled are not entitlement to caregivers. The drafting of the bill on veterans was made without the consultation with the veterans. The law on Civilian casualties is full of gaps and ambiguities", Glogoski  started on today's press conference with these words.
Minister Matic said on Wednesday evening appearing on the TV programme "Veto", that among veterans and disabled, who were protesting in front of the ministry, had a good deal of hypocrisy.
"More than half of these people crawled over me, and now when I pass by them I can hear shouts "kill him", clench their teeth and turn their back away from me. This is called the pinnacle of hypocrisy, but  they, just like everyone else are invited to discuss as they did before", Matic said, arguing that the disabled and veterans are being manipulated.
At the end of the show, the minister apologised to Bojan Glavasevic, his assistant, for inviting him into the team and also for interrupting his quiet career.
Some of the veterans pushed and poured some water to assistant Glavasevic, while he was trying to go inside the building of the ministry.