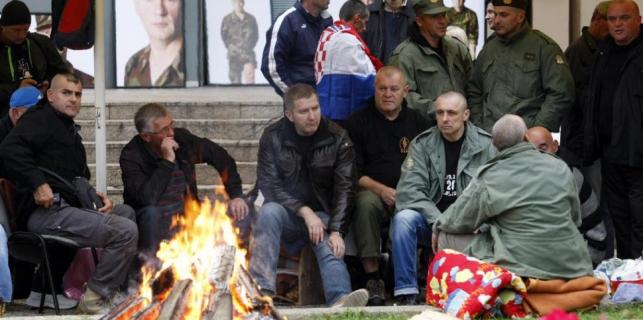 Zagreb, December 5, 2014 / Independent Balkan News Agency
By Marija Avramovic
The delegation of war veterans honored the victims of December today by laying wreaths at Ban Jelacic square in Zagreb and held a press conference where they announced that from now on Prime Minister's Zoran Milanovic mane has been added to the list of people whose dismissal they seek, because after 47 days of protests he did not come to speak to them.
War veterans urged the citizens not to vote for Ivo Josipovic in the upcoming elections, and the reason they stated was that Josipovic has the support of Bojan Glavašević, whose dismissal, with the discharge of Minister of Veterans Predrag Maric they request.
The President of the Association of 100% disabled veterans of first group Djuro Glogoški said that they will wait for a response to all their requests by the 15th of this month.
After the press conference the veterans headed towards the Parliament, where the Committee on Veterans' Affairs is being held and is attended by Parliament Speaker Josip Leko.
Leko has invited veterans to return to their homes, offered a postponement of the Law on pension insurance, and confirmed that he agreed with the unique veteran law, but not at the constitutional level.
Member of the Committee, Zeljko Sabo proposed concrete conclusions, such as the delay of the pension law for six months and the withdrawal of the amendments on the Law of veterans that is in the public debate.
Association of veterans today presented the results of the first studies on the subject of war veterans experience and the way in which it affected their personal and social life.
Research has shown that the defenders are most satisfied with relations with their families and friends, but least satisfied with the government and administration.
The veterans are very concerned about their health because many of their comrades died at the age of 50.9 years, mostly from malignant tumors and some of them are suffering by post traumatic stress disorder (PTSD), which makes it difficult for them to control their emotions hence their conflicts with their surroundings.
The study included about 500 Croatian defenders of the 30 veterans associations and it was supported by the Ministry of Veterans.