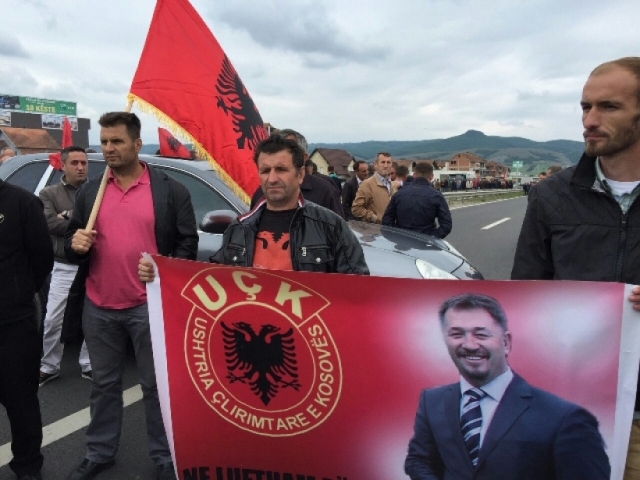 Pristina, 28 May 2015/Independent Balkan News Agency
By Elton Tota
Hundreds of citizens, including representatives of associations that were created from the war of KLA (Kosovo Liberation Army), have blocked this morning the road linking Pristina to Pec.
The demonstrators are protesting against the sentence given to the main former commanders of KLA, Sami Lushtaku and Sulejman Selimi in the case of "Drenica".
The head of the Association of the Families of KLA War Veterans, Xhavit Jashari, said that the Court of First Instance in Mitrovica, sentenced the former members of KLA without any argument.
According to him, these convictions are tarnishing the liberation war fought by Albanians against the regime of Slobodan Milosevic.
Meanwhile, Hysni Gucati, representative of the association of veterans for the Commune of Skenderaj, says that they are revolted by the court ruling.
"We have come here to express our revolt with the ruling issued yesterday by the court. Lushtaku was a good commander in war and in peace", he said.
Opposition parties have also reacted against the conviction of the former KLA commanders, demanding a quashing of the ruling at the Appellate Court.
The "facts" that convicted Lushtaku and Selimi
The jury at the Court of First Instance in Mitrovica has clarified its ruling, which saw the conviction of Sami Lushtaku and Sulejman Selimi.
In August and September of 1998, Selimi has used physical violence against witness A in the village of Likovc, Drenica.
Selimi has also visited witness A in several occasions by making life threats against him.
In this case, he has shown features of torture against witness A.
Meanwhile, as far as Lushtaku is concerned, the court held that he has gunned down a person between the villages of Galica and Dubovc.
Gashi: The convictions were based on the accounts of a mentally ill person
Defense lawyer of Sulejman Selimi, Tome Gashi, has considered the conviction of the former general conviction of KLA and others as a "legal massacre".
"What happened on Wednesday was a 'legal massacre'. Sulejman Selimi has been convicted based on the accounts of a mentally ill person. This was also registered at the Clinic of Drenas in 2003. Meanwhile, his doctor said that the witness has been his patient even before the war, but the records have been burned during the war", Gashi said.
Gashi says that Wednesday's conviction was not against individuals, but against KLA. /ibna/