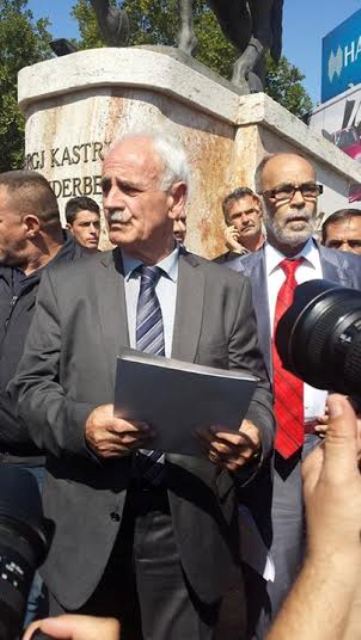 Skopje, September 18, 2014/Independent Balkan News Agency
By Naser Pajaziti
A group of Albanian veteran politicians proclaimed today in Skopje the so called Republic of Ilirida, for autonomy and advanced status of Albanians in FYROM.
This decision is based on the referendum held on 11 and 12 January of 1992 in FYROM by Albanians, immediately after the declaration of independence in the country and the approval of the Constitution, which at that time left many ethnic Albanians unhappy.
Through the referendum for Political-Territorial Autonomy, Albanians voted in favor of the Republic of Ilirida as a federal part of the country, but this demand was never granted by the state authorities of the country and the international community.
But, 22 years later, the leader of this political movement, Nevzat Halili along with several other initiators, reproclaimed today the so called Republic of Ilirida.
The head of this Republic said that this decision comes as a result of the requests made by Albanians and the failure to meet these requests for decades.
"Our decision is based on the Constitution of USA, which says that every human being has the right to govern itself and the position of the American president, Woodrow Wilson that people have the right of self determination", said Halili, who is known as chairman of the first Albanian pluralist party in FYROM, PPD-Party for Democratic Prosperity.
Halili, who today is a veteran politician, said that their demands and the demands of all Albanians is for FYROM to operate as a state divided into two equal republic, "the republic of Ilirida and the republic of Macedonia", based on the example of the former federation of Serbia and Montenegro and Belgian federation.
Halili demanded from prime minister Nikola Gruevski to follow the example of the former Belgian prime minister, who in 1970,ordered for Belgium to become a federation.
He said that this is necessary, because even though the Ohrid Agreement put a stop to the 2001 conflict, it could not secure equality between Albanians and Macedonians. /ibna/