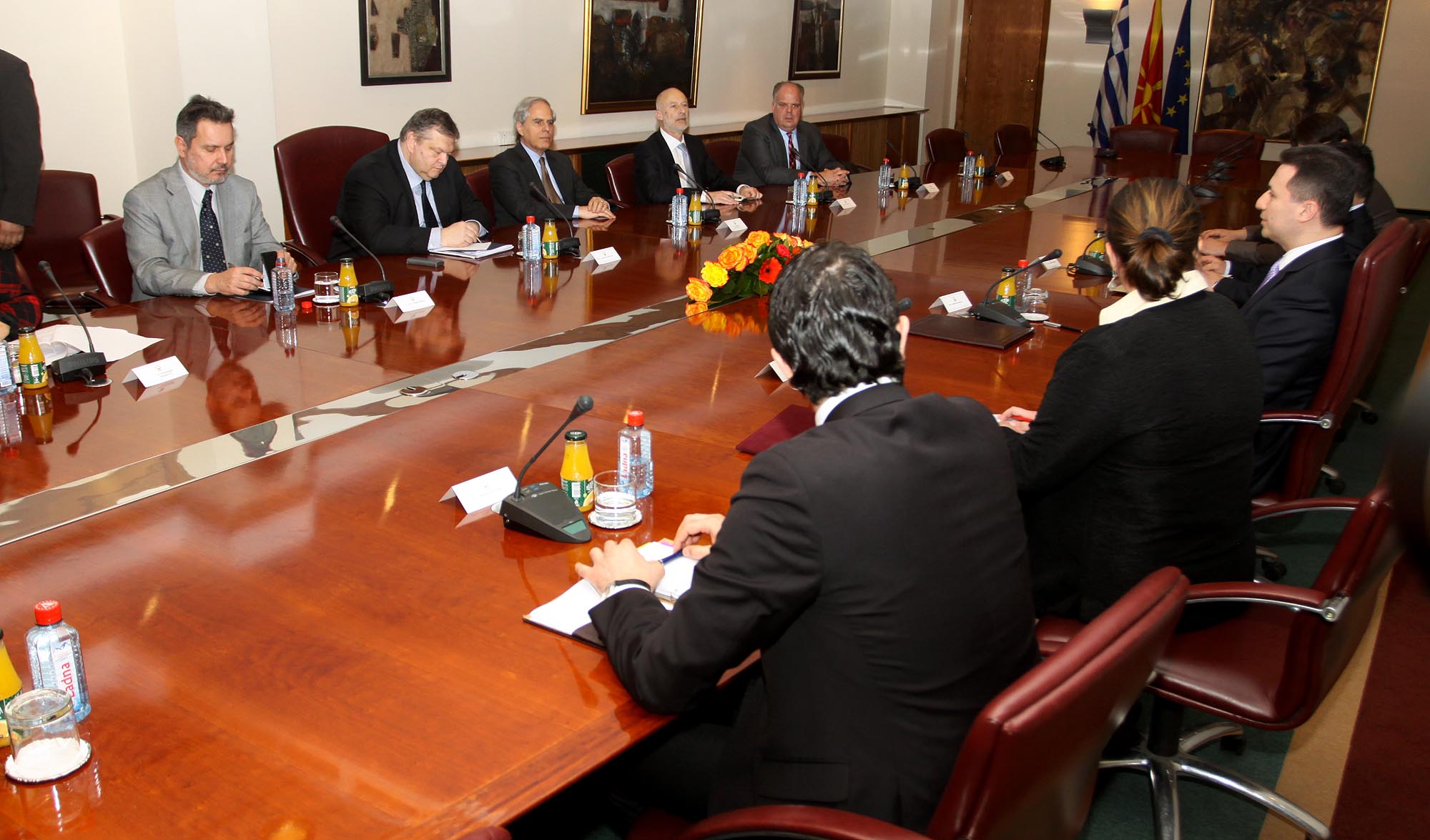 Skopje, February 20, 2014/Independent Balkan News Agency
By Naser Pajaziti
The head of the Greek diplomacy and head of the EU presidency, Evangelos Venizelos has delivered a press conference with journalists in the EU's Center for Information where he has expressed his impressions upon the finalization of his visit to Skopje.
Venizelos said that this visit has created an impression that authorities in Skopje have a disposition to improve bilateral relations.
"Greece is the entry gate for the Euro Atlantic aspirations of your country. We're a friendly country and a good neighbor", said Mr. Venizelos.
Venizelos also talked about the official agenda in Skopje: "In the meetings with government representatives, we have concluded that we will continue talks about the name dispute under the ausprices of UNO and its intermediary, Mathew Nimitz. I must admit that I personally feel that Skopje and representatives of the civil sector have a disposition to improve good neighboring relations. On the other hand, we're also ready to improve dialogue which not only includes the name dispute, but also the improvement of economic relations", said Venizelos.
The head of the Greek diplomacy said that his country has helped Skopje a lot in the past in its path of stability and that this is a good neighboring country.
"Speaking on the Euro Atlantic, Venizelos said that Skopje must fulfill the Criteria of Copenhagen and EU recommendations.
"I have clearly expressed our position before the EU Council of Ministers. If your country wants to become an EU member, Copenhagen criteria must be met along with EU recommendations for the improvement of good neighboring relations", said the head of the Greek diplomacy, adding that Skopje doesn't only have problems with Athens, but also with Skopje.
Venizelos made an invitation for the head of state in Skopje to participate in the next meeting of the EU and a high level meeting between the two countries immediately following the EU high level meeting in April.
"When all countries, including your country, become part of the European Union, then this region will be more stable and will be better developed", declared the head of the Greek diplomacy.
Meeting between Venizelos and Gruevski
Before concluding his visit, the head of the Greek diplomacy also met with prime minister Nikola Gruevski. The prime minister's office issued a press statement on this meeting.
"It's necessary to engage in order to continue talks for the name dispute under the auspices of UNO, but also talks on bilateral relations which would offer positive energy to reduce differences. In this aspect, there's a will from both sides", states the press statement of prime minister Gruevski's cabinet.
Prime minister Gruevski has praised the visit of Mr. Venizelos and said that his country is ready to work in order to improve neighboring relations with Greece.
Gruevski expressed his conviction that the Greek EU presidency will strengthen EU perspectives on the Balkan in compliance with the agenda of Thessalonica for the EU Enlargement with the Balkan countries. Gruevski also said that he's ready to boost up bilateral meetings in order to overcome differences and develop cooperation in different domains. /ibna/
More:  
Skopje to Athens: The solution of the name dispute alongside European integration
Venizelos meets the leader of opposition and leader of BDI
Venizelos received by protests in Skopje: Recognize the name "Macedonia"
Political parties comment Venizelo's visit