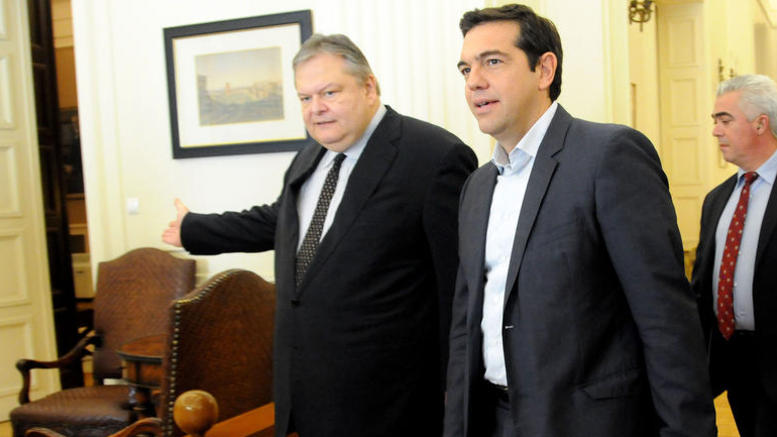 Athens, February 19, 2015/ Independent Balkan News Agency
By Spiros Sideris
The assessment "two big changes in government" have occurred expressed the president of PASOK exiting the Maximos Mansion after meeting with Prime Minister and assessed the change from the positions on debt and extending the loan agreement as very important.
"We had an interesting, friendly, meaningful discussion", Venizelos said, during which he said had the opportunity to transfer to Alexis Tsipras "my long and difficult experience of the past five years".
As noted the president of PASOK, "it is very important that two major changes have occurred" and referred to "the abandonment of theories of unilateral actions" regarding the debt.
The second change according to Venizelos is the "acceptance of the program. The loan agreement". As he stated, he gave the Prime Minister a note with his statements on the need for a smaller target surplus, in order to proceed with development measures and the extension of the contract until February 28.
"The government's request for an extension is a requested that must lead in the convening of a Eurogroup, in accepting the request and the resumption of a substantial negotiation", Venizelos stressed.
He noted that "we should not have wasted time in a debate over semantics, in a discussion of non-existent words. "I do not sign the extension, I do not request an extension. "We finally asked for an extension. It would have been better to have spent February to finalise the negotiation, to exit the programme and go to the precautionary credit line. If the government does not want to speak for a precautionary credit line, but for a bridge programme, it makes no difference. What is important is to finish with surveillance and programme and become a normal state of the Eurozone".
And he urged "not to play games on the kindly feelings of patriotism and dignity. The truth has cost and when you govern must assume the cost of truth".
Mr. Venizelos stressed that there is no difference between Memorandum and loan agreement, stressing that "the loan agreement explicitly from the preamble of its first paragraph points to the Memorandum. This is obvious: When the government says "I extend the loan agreement", it wants an extension of the legal framework on the basis of which our relationship is moving with the partners".