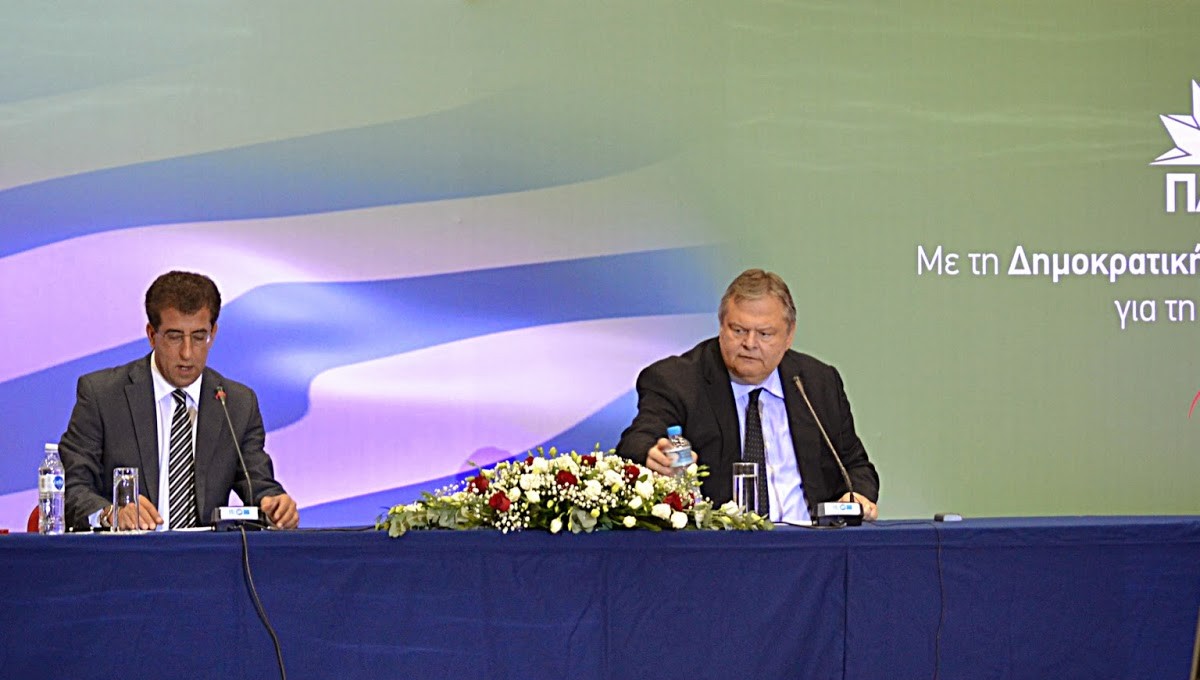 By Spiros Sideris – Thessaloniki
The strategy for exiting the crisis, which is based on five pillars, presented Evangelos Venizelos at a press conference hosted at the "Vellidio" convention center, in the framework of the 79th Thessaloniki International Fair (TIF). He hinted his disagreement for ENFIA, he said that history repeats itself as a farce, referring to the comparison between PASOK and SYRIZA, and refused to answer questions about intraparty affairs.
Analyzing the program with the five pillars, Venizelos said that the first relates to the extrication from the memorandum, without new austerity measures, within the framework of the EU and in harmonized with the EU institutional framework.
The second pillar is the political and institutional stability for the protection of institutions, and national unity 'beyond false dilemmas and false polarisations.
The third prerequisite, according PASOK, is the bringing together of the creative forces in the country for promote the national employment plan. "For 720,000 jobs over the next six years speaks the National Bank of Greece (…) there is a huge scope for privatisations, and for programs through the National Strategic Reference Framework (NSRF)", he said.
The fourth pillar is the protection of vulnerable groups in the society and the welfare state.
The fifth point, Venizelos pointed out, is Greece's role within Europe and the world. "We live in a precarious world. (…) We are earning points abroad on the Greek-Turkish relations, on the Cyprus issue and the issue of the name of Skopje, with the aim to return Greece to a position that will have the right to a substantive dialogue", he said.
In all the questions he received on party matters he clarified issues he is not going to comment, referring to what he said last Wednesday at the event for the 40 years of PASOK.
The only exception was one question he received, as to whether some of the words of Kostas Simitis in that event were pinpointed at him, replying that it was a wrong assessment.
"PASOK, during the period after the political changeover offered much to the country, but also made a lot of mistakes. We took responsibility for our mistakes, we took responsibility for the mistakes of people in our party, which marked the party", said Venizelos, adding that it was wrong for PASOK to lift by itself that burden for such a long time.
SYRIZA: PASOK is a component of New Democracy
Main opposition SYRIZA says PASOK is a component of the New Democracy (ND), commenting on the interview of the president of the party, Evangelos Venizelos, in TIF.
"The president of PASOK confirmed once again that the party has become a component of ND, adhering to a policy that has plunged the people into poverty and despair", says the statement issued by press office of SYRIZA.
(Photo: Spiros Sideris)