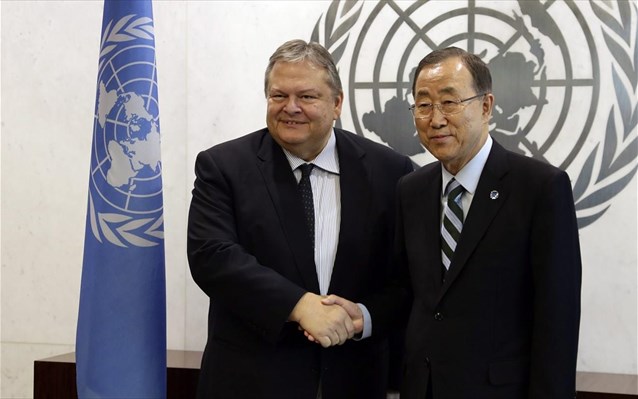 By Spiros Sideris – Athens
In his statement after the his meeting with the Secretary General of the UN, Ban Ki-moon, Greek deputy prime minister and Foreign minister Evangelos Venizelos, made it ​​clear when asked about the reports that refer to the affiliations of seven Greek citizens with the jihadists that there is no issue with jihadists in Greece.
"Greece participates in the international mobilisation against the so-called Islamic State, Greece respects and implements the decisions of the Security Council, the EU, NATO on these issues. We do not have an issue with jihadist fighters in Greece, but there is one in our wider region", said Venizelos, adding however, that Greece participates "in the international cooperation of information exchange", because, as he said, "this is an issue of internal security".
When asked if the greek authorities received relevant information from the CIA, the Greek Foreign minister stated that "we have not been informed as such", but noted that Greece has a "very close cooperation with the U.S. administration and all our allied countries".
In his meeting with Ban Ki-moon, in the framework of the 69th Session of the UN General Assembly, the deputy prime minister noted that the whole range of the national issues of Greece was discussed, including the Cyprus issue, the name of FYROM, as well as all other open international issues.
Especially for Cyprus, Venizelos reiterated that Athens supports the initiatives of Cypriot president Anastasiades, and expressed his belief that the appointment of the new Special Adviser of the Secretary General Mr. Espen Barth Eide "is a very good option that can help the situation".
He also noted the need to find a solution that is sustainable, equitable, consistent with the acquis, but also one which "can be accepted by the Cypriot people of both communities, through a referendum".
Regarding FYROM, the deputy prime minister stressed that Greece has made "big and creative steps" and its position on the name issue is clear. "The national position is in favor of a composite name with a geographical qualifier, both for internal and external use (erga omnes), so we expect the other side to take corresponding and productive steps in good faith", he added.