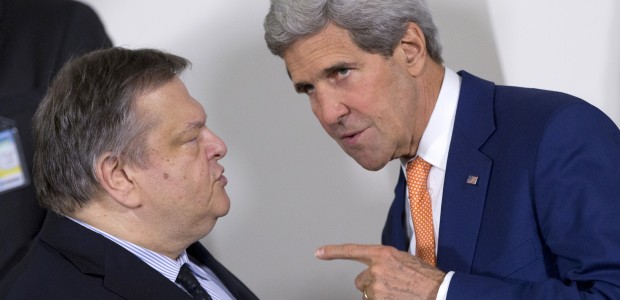 Brussels, December 4, 2014 / Independent Balkan News Agency
By Spiros Sideris
Expressing the deep resentment of the Greek side for the use of the so-called constitutional name of FYROM to the conference of the countries that make up the alliance against the Islamic State (IS), Evangelos Venizelos did not attend on Wednesday the works of the session in Brussels, and send a letter to US Secretary of State John Kerry.
At the ministerial conference at NATO headquarters in Brussels, Venizelos was represented by the Ambassador, Permanent Representative of Greece to NATO, Mr. Diamesis.
As stated by the Foreign Ministry, the reason for the non-participation of Venizelos in person was the fact that, despite the frequent contacts and the demarches that preceded, the US, which convened the meeting, did not respect the rules and practices of the UN regarding the reporting of the participating countries.
Specifically, while in the Congress FYROM participated with its temporary name, in a joint declaration of the countries that make up the coalition, it signed with its so-called constitutional name.
Greece has submitted a statement that reminds the UN Security Council decisions and the fact that Greece recognises Macedonia by its provisional name.
Evangelos Venizelos also sent a letter of complaint to US Foreign Minister John Kerry.