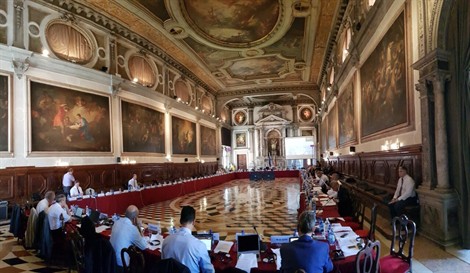 The Venice Commission adopted, at today's plenary session in Venice, a positive opinion on the bill on Freedom of Religion or Beliefs and the Legal Status of Religious Communities of Montenegro, noting that the proposed legal text "brings significant positive changes to existing obsolete legislation".
In its Opinion, the Venice Commission welcomed the "true efforts of the Montenegrin authorities" to replace the outdated Law on the Legal Status of Religious Communities of 1977 with the new law. The Venice Commission also assesses the positive commitment that the proposed law should guarantee, not only the freedom of religion but also the freedom of non-religious beliefs, welcoming the liberal approach to the provisions that regulate the procedure of registration of religious communities, respecting their autonomy and guaranteeing the rights to religious instruction and the establishment of religious schools.
The Opinion also welcomes the legal solution according to which registration of religious communities is not prescribed as mandatory. "The approach that is taken in the Draft Laws and which the authorities have taken is welcome. In addition, the Venice Commission emphasizes that the voluntary character of registration does not mean that religious communities can act outside the legal system. In modern democracies, constitutional restrictions on state power over religious communities cannot be considered an obstacle to the confirmation of the authority of a democratic state. Religious communities are not above or outside the national legal order: they have their place – although specifically, guaranteed and protected by special fundamental rights – within that order," the document states.
Commenting on the issue of the property of religious communities, the Venice Commission emphasizes: "As far as the important issue of religious property is concerned, the Venice Commission understands the concerns of the Montenegrin authorities with regard to the introduction of legal certainty and the resolution of the question of possible unlawful / abuse of registration in the name of religious communities during the 1990s religious objects that can be part of the cultural heritage of Montenegro. This is because the state, according to Article 78 of the Constitution, has the duty to protect the natural and cultural heritage of the country. The Venice Commission welcomes the fact that the solutions proposed in this draft law rely on the long-standing legal principles of the Montenegrin legal order and are not based on ad hoc rules specific to this situation."
With this view, the Venice Commission supported the key commitment of the Government to ensure that every citizen of Montenegro is guaranteed the freedom, by its own conscience, to be or not to be a believer of any religion, by affirming the right of the state to protect the property and cultural goods belonging to all citizens and to provide that the laws of Montenegro apply equally to all, throughout the territory of our state.
The delegation of the Government of Montenegro, which took part in the work of the Venice Commission plenary session, led by Minister of Human and Minority Rights Mehmed Zenka, expressed gratitude to the Venice Commission for the expert opinion. The delegation announced that the suggestions and recommendations for further improvement and precision of certain legal provisions be carefully considered and incorporated into the final text of the Draft Law that will be referred to the Assembly for consideration and adoption./ibna