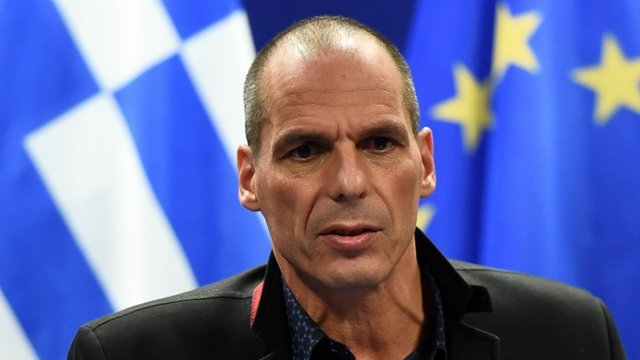 Athens, September 9, 2015/ Independent Balkan News Agency
By Spiros Sideris
Revealing, sharp and prophetic appears Yanis Varoufakis in his text to the New York Times.
In fact, he begins with the observation that from the start of the Greek crisis in 2010 have already resigned two prime ministers since they were obliged to adopt unbearable austerity measures in exchange for aid packages from the troika and emphasises: "It hurts to see the same fate befalling on a third Prime Minister, my friend and comrade Alexis Tsipras".
Former Finance Minister reiterated his decision not to participate in the "sad elections" and that both Tsipras and Schaeuble and executives of the IMF agree that the new loan agreement is not sustainable.
He also clarifies that he will not ally himself with those who believe that the exit from the eurozone and a sharp devaluation of the reinstated drachma is a programme for the recovery of Greece.
Yanis Varoufakis makes and extended referrence to the "backup plan" by making sharp revelations:
"In March I took up the work of drafting an alternative plan for the recovery of Greece with the participation of the economist Jeffrey Sachs and the contribution of a team of experts such as former US Treasury Secretary Larry Summers and the British former minister Norman Lamont.
Our strategy was based on a strategy for debt exchange (debt swaps) in order to reduce public debt. This measure would have enabled us to have sustainable primary surpluses from 2018 onwards. We set as a goal such surpluses to not be larger than 2% of the GDP.
With less pressure on the government to proceed to public spending cuts, the Greek economy would have attracted investors.
In this way, Varoufakis argues, Greece would be eligible for the ECB's quantitative easing program.
At the same time it adds that the plan included the creation of development bank for the public wealth and a "bad bank" soft loans.
"The plan was ready on May 11. I presented it to Schäuble and other MoF of the Eurozone. However, it never received the approval of the Greek prime minister because the Troika forbade it. They made it clear to him that any such document would be considered a hostile move and would be a withdrawal of the conditions of the existing program of the Troika. Of course, this program spoke of larger primary surpluses and had no provision for debt restructuring".
Varoufakis notes that this shows the failure of the Eurozone, while the "Spring of Athens" has taught us that Greece can recover only if the EU makes a transition from "We the States" to "We the peoples of Europe".
He ends with his plan to create a pan-European political movement inspired by the "Spring of Athens" to democratise Europe.
"Of course it will take years to mature – years that Greece does not have. In the meantime I will continue to propel the plan for the development of Greece as a truly viable alternative to the impossible programme of the Troika".