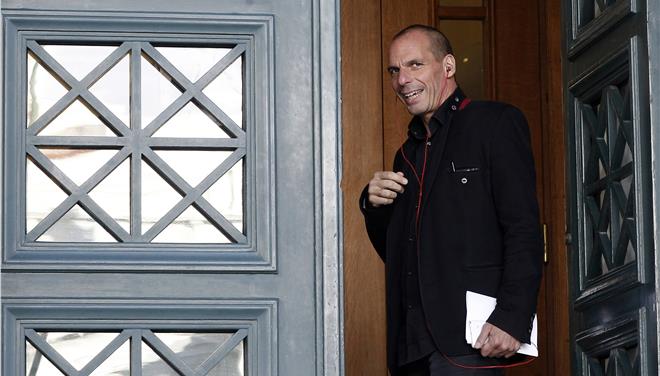 Athens, February 11, 2015/ Independent Balkan News Agency
By Spiros Sideris
Tensions were raised in the Greek Parliament, during the plenary sessions, by the placement of  Finance Minister in the framework of the programmatic statements of the government, when Yanis Varoufakis said that the government accepts 0% of the Memorandum, while he made a clear references to the possibility of a break off in the negotiations.
Starting his speach, Varoufakis said that the vote of confidence in this government starts the post-memorandum era in Greece, however, this is not the time for rejoicing nor bravado.
Finance minister went on saying that he wanted to give answers both within the government and SYRIZA and the opposition explaining what was the Memorandum.
"The Memorandum for us were new loans accumulated on old loans. Before 2010 the country's GDP was magnified by unsustainable borrowing. We went from pyramidal magnification to pyramidal austerity".
"From this Memorandum we accept 0%", said Varoufakis to add: "we will not accept not one of the red lines that enhance the denial of reality and sacrifice Greeks without a cause, will not succumb to the false delusion that deregulation of the labour market is a reform".
"For this agreement to stop being toxic it requires a new agreement and that is why we were elected. It's funny to criticize us because we want a deal-bridge", he said and added that the Greek government will continue to work with the Troika but in a different context.
Impression also caused the retort of the Finance Minister regarding a break off, where, in response to the President of PASOK, Evangelos Venizelos he said that "you ask us to commit ourselves that we will not go to a break off in order to support us", noting that "this is an oxymoron, because this is not how you negotiate".
"If you are not willing to even contemplate a break off, then you cannot go into a negotiation", Varoufakis said, to leave the insinuation: "If you statements beforehand that one, two, three days will pass, but at the last moment I will give you what I want and no matter what you will accept, you are not negotiating".
"Then better to sit here to organise our ministries to stay with our wives and send us their decision with an e-mail", he said leaving spikes.
"We will do everything to prevent a break off, but we will not refuse to contemplate it", noted the Minister of Finance, stressing that "in Brussels we will go with reasonably sensible proposals, with no hidden agenda".
"We will not play games. You cannot play with the future of Greece. Without bluffs, bluntly. This will be our tactic. We have no dogmatism to keep those parts of the Memorandum that do not threaten to pollute the new program. Why reject the tax reform?", Varoufakis added, to continue saying: "the part that is toxic and we reject is 30%".
Yanis Varoufakis noted that "It is the first time that the Greek government is coming upright in the negotiation and rather than bending beforehand", while called on other parties to support it.
"I understand the moving attempt to baptize us and us pro-Memorandum, but why project this submission in the Memorandum to us instead of urging us to not to return from Brussels without an honest anti-Memorandum agreement?", the Greek Finance Minister said.
"The country will prove worthy of its citizens' expectations", Yanis Varoufakis concluded.