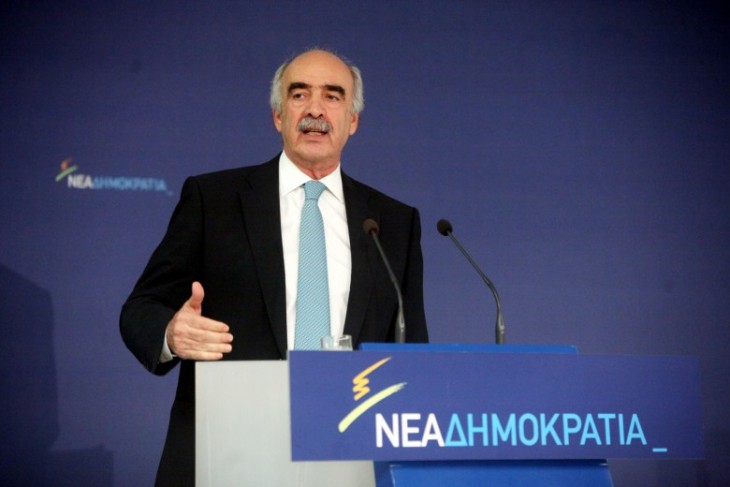 Athens, October 1, 2015/Independent Balkan News Agency
By Zacharias Petrou
Vangelis Meimarakis announced Thursday evening that he will be a candidate in New Democracy's elections for a new party leader. A press conference followed the announcement at the Ledra Marriott hotel in Athens during which Meimarakis said: "I have always been present, I have always been in the front lines, in the tough moments like this electoral summer when I accepted to take on the presidency while I knew of the difficulties that existed."
Meimarakis also criticized those who have deserted New Democracy or have sat on the sidelines when the party went through tough times in recent years.
"I have been serving since it [New Democracy] was created and I identify with it [New Democracy] during the good times and the bad," Meimarakis characteristically said.
The date for the election has not yet been determined. The final deadline for prospective candidates is 6pm of Friday when the party will announce which candidates have gathered the necessary support from political committee members to be eligible to run.
So far Kyriacos Mitsotakis, Apostolos Tzitzicostas and Adonis Georgiadis have officialy announced they will be running for the leadership of the party.
Meimarakis has gathered much more signatures than the 50 needed from Central Committee members in order to run. However, he chose to only include 50 signatures in his application in a gesture safeguarding the unity of the party.
The other two candidates that are considered certain to run for the ND presidency are Kyriacos Mitsotakis (an MP and former Administration Reform Minister) and Apostolos Tzitzicostas (the prefect of Central Macedonia). Former Health Minister Adonis Georgiadis has also announced he will be running for party leader but it is not certain he will gather the signatures required to join the race.
The most likely dates for the election (in which party friends and members will vote) are 18 or 25 October (favored by Meimarakis) and November 15 (which is favored by Mitsotakis). Tzitzikostas also favors a longer campaign.