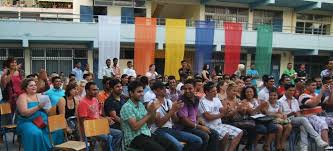 By Spiros Sideris – Athens
The fierce response of the Ministry of Education caused the attack on the "Open School for Immigrants" in Piraeus by members of the Golden Dawn, speaking of a "shameful act and criminal offenses".
It also sends a message to "everyone who seeks to threaten the smooth, civilized and peaceful coexistence that they will find the state opposite them in an absolute way".
At the same time the Ministry of Education describes as "laudable and exemplary" the ongoing work in this school by volunteer teachers from 2005, "with the main aim to teach Greek to foreigners and immigrants through a variety of activities that help to approach the individual communities and smoothen the social integration of those who participate in them. At the same time, its numerous activities are a beacon of humanity and culture in the region. We support and applaud the operation", concludes the statement of the Ministry of Education.
During the nights of 14th and 15th of August, there was a break in and vandalism by an unidentified group during two incidents at the premises of the 14th & 15th School of Piraeus, at site where it is housed and the Open School for Immigrants.
According to police, a computer was stolen from the school, with the intruders causing minor damage and writing racist messages on the walls.