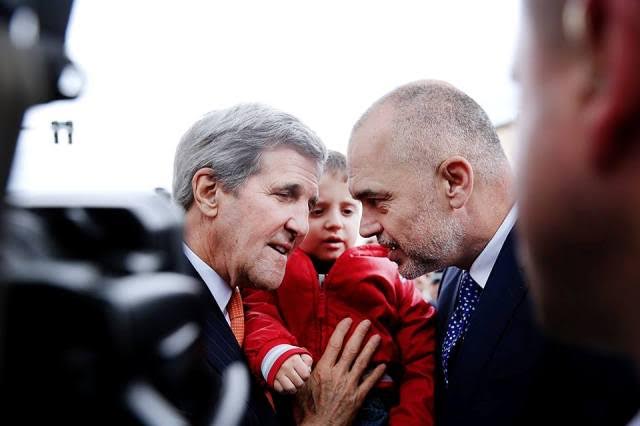 Tirana, 15 February 2016/Independent Balkan News Agency
By Edison Kurani
The US government has managed to secure the accommodation of 2 thousand mujahedeen in Albania. This is part of an agreement that the US State Secretary, John Kerry confirmed yesterday during a visit to Albania.
The agreement was not part of the bilateral public declarations. Prior to Sunday's visit to Tirana, it was announced that Mr. Kerry would not publicly speak of the efforts to move the mujahedeen in Albania, which is a sensitive topic.
The group which is expected to be accommodated to Albania has backed the United States of America in military operations in Middle East and in its fight against terrorism.
"USA will allocate a fund of 20 million USD to bring the mujahedeen to Albania. These funds will go for the construction of the center where the Iranians will be accommodated", the US State Secretary said.
Mr. Kerry thanked the Albanian government for accommodating the members of a prominent Iranian opposition group known as the mujahedeen of Khalq or MEK.
Mujahedeen, terrorists in the past, refugees today
The mujahedeen are members of the Mojahedin-e-Khalq organization or also known as the mujahedeen of the Iranian people.
They come to Albania through UNHCR, in response to the request of the US government, which also oversees Ashraf camp in Iraq.
Organization Mojahedin-e-Khalq is considered as a political opposition of Iran's regime.
Since 1979, Mojahedin-e-Khalq has been considered by Iran's authorities as a movement that represents the traitors of the country. After finding refuge in Iraq, its members were on the side of Saddam Hussein in the '80s during the war between Iraq and Iran.
In the late part of 1990's, the Mujahedeen of the Iranian People were included in the list of terrorist organizations by the United States of America. For many years in a row, it has been considered as such by the EU as well. In 2009 alone, upon the decision of 27 member countries, Brussels removed it from the list of terrorist organizations and in September 2012, a similar decision was also taken by the USA.
This organization is one of the main founders of the National Council of Iranian Resistance, in opposition with the regime in Iran.
In total, around three thousand of its members have been accommodated in the Ashraf camp in Iraq under the supervision of the US forces. United Nations High Commissioner for Refugees, UNHCR, has recognized them the status of refugee.
Since 2013, Albania has accepted around 1 thousand mujahedeen. Two thousand others solve the problem of the accommodation of mujahedeen.
These people enjoy the refugee status in Albania. They are received by the Ministry of Interior which secures their accommodation, foot and integration in Albania.
The Albanian government not only has decided to accept them in the territory of the Republic of Albania, but has also pledged to offer them long term stay and treat them according to all standards recognized by international law and the conventions that Albania has adhered to. /ibna/