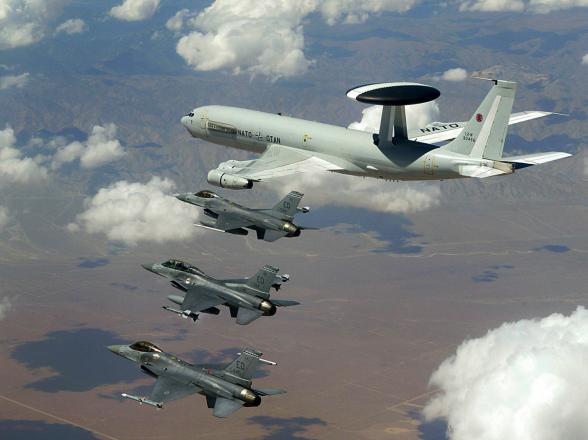 By Daniel Stroe – Bucharest
The US charge d'affaires in Bucharest yesterday reiterated Washington's strong support for Romania and allies in NATO in the context of the regional crisis sparked by Crimea's annexation and unrest in Eastern Ukraine, following calls from Bucharest for a beefed up military presence of the West in the former communist bloc.
"As I hope you've seen by the visits of the USS Truxtun, the USS Cook, the additional marines at Mihail Kogalniceanu, and by the arrival of U.S. F-16s, the United States remains steadfast with Romania and with all our NATO allies in this moment of crisis. You are a key ally in the Black Sea region. Romania is a front-line state in this crisis. We stand by you, and we anticipate more diplomatic engagements and visits by U.S. forces" Duane Butcher said on the occasion of air drills Dacian Viper 2014 at the Campia Turzii air base in central Romania.
Over 200 Romanian soldiers and 250 US military personnel joined the one week air drills. Attending the event, Romanian PM Victor Ponta co-piloted a US F16 air fighter. "I am still alive", Ponta joked as he got off the plane. His exploit comes shortly after his decision to relocate his office at the Ministry of Defense amid a corruption scandal in which his name has also surfaced. Ponta alleges the seat of the ministry is safe from phone interceptions.
The Pentagon had announced about two weeks ago it would send an unspecified number of F16 air fighters to Romania to join these drills and said the planes would remain here for a longer period. "These exercises are a chance for our air forces to become even more familiar with one another. They build teamwork and improve our ability to operate together effectively. Romanian and American pilots and support crews have the chance to practice air-to-air and air-to-ground combat against dissimilar aircraft – it is truly a superb learning opportunity" Butcher added.
"Exercising together has never been more important to our bilateral relationship, and our NATO partnership, as it is today, given events in the region" he further said, pointing out "Russia's actions threaten international peace and stability". Apart from these drills, 600 more marines and an unspecified numbers of military planes will be deployed at the Mihail Kogalniceanu air base in SE Romania. Thus, the total US military personnel here will reach 1,600 troops.
Butcher praised Romania's decision to acquire F-16 aircraft. "The F-16 is one of the finest aircraft in the world. Soon Romania will join an elite club of nations that fly this extraordinary airplane. The United States will continue to assist you as you prepare to integrate your F-16s into your air force" he said.
In October, Romania signed a 600 million Euros contract to acquire 12 F-16 AM/BM fighters from Portugal. The deal also includes training for an initial nine pilots and 69 technicians which will take place in the US. The first air fighters will be delivered next year with the rest to be delivered in 2017.