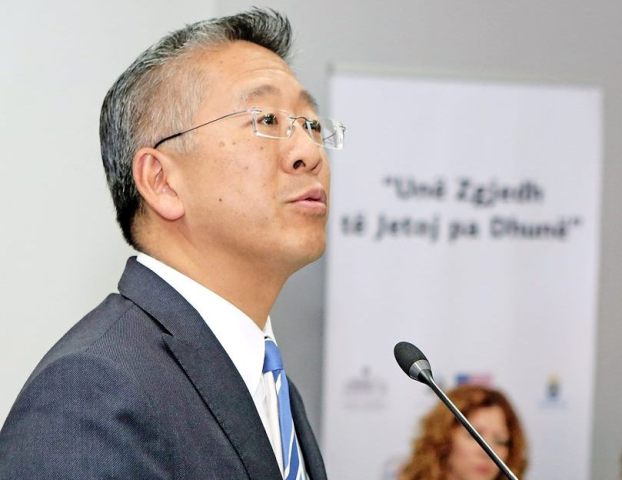 Corrupt politicians from both the left and the right will be brought to justice. This was the warning of the US ambassador to Tirana, Donald Lu, thus issuing another strong declaration for the developments in Albania.
Mr. Lu has referred to the perception of the citizens on corruption.
"In Albania, every family has a story to tell about how corruption has touched their lives.  Some complain about an insatiable tax inspector forcing them to close their business.  Others talk about corrupt businessmen creating a monopoly in the pharmaceutical sector or controlling politicians to influence a tender or a property decision.  Or how a corrupt judge or prosecutor demanded money, sex or favors for a corrupt court ruling".
***
In July, parliament voted unanimously the passage of constitutional amendments to create the Special Structure on Anti-Corruption (SPAK) and the National Bureau of Investigation (BKH). For the first time in Albania's history, these new institutions will provide an independent prosecutorial and investigative capacity to catch organized crime bosses and corrupt senior officials.
Mr. Lu says that they will do this with the support of the United States Government. But he says that "this only works if the people of Albania have high expectations and demand results from these new institutions".
"You should expect that many of Albania's drug dealers and organized crime bosses will go to jail. You should expect that senior corrupt politicians, from the right and the left, will face justice. And more importantly, you should expect that drug dealers, organized crime bosses, and corrupt politicians, judges and prosecutors will be afraid".
Us ambassador says that "We see evidence that these people are already afraid and are trying to fight back against this reform" and adds: "Because of their fear they are inventing stories and telling lies about the EU Ambassador, EURALIUS and the Constitutional Court".
Here, Mr. Lu referred to the accusations addressed by the opposition that the translation of the Vetting law was sent to the Venice Commission with errors.
"As Chief Justice Dedja said himself, the Court has already sent a revised translation to the Venice Commission and none of the translation differences were substantial", Mr. Lu stressed. /balkaneu.com/