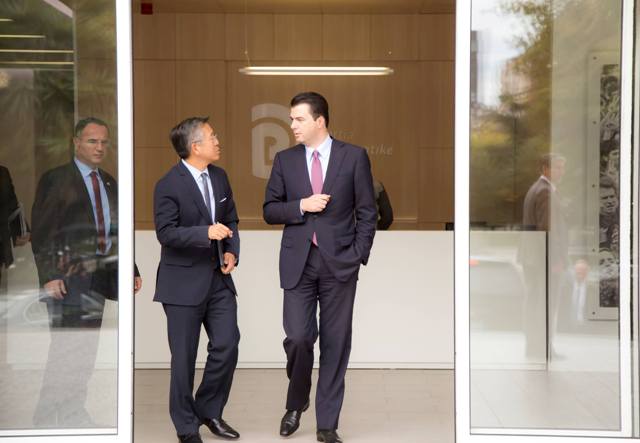 The US ambassador, Donald Lu said that the Democratic Party is risking to be seen as a party which defends corrupt judges and prosecutors
Tirana, 26 September 2016/Independent Balkan News Agency
The American diplomacy is being more and more critical with the Albanian opposition, being very unhappy with it.
The US ambassador to Albania, Donald Lu said that the DP is risking becoming a party which the Albanian people believe that it is protecting the corrupt.
Mr. Lu's warnings come a few days after the opposition sent the Vetting Law to the Constitutional Court. This law is a continuation of constitutional amendments for the reform in justice, which the opposition voted. But, it refused the legal package which included the vetting law.
Mr. Lu says that "it is the constitutional right of the opposition to challenge the Vetting law in the Constitutional Court or to boycott further sessions of the ad hoc committee on judicial reform".
But he adds: "We have told the leadership of the Democratic Party that they risk becoming the party that the people of Albania believe is against this reform and is protecting corrupt judges and prosecutors, or judges and prosecutors with whom they have political influence".
Ambassador Lu also identifies presidential paradoxes: "I recall the statement made by President Nishani who said in an interview that while he does not like some of the articles in the Vetting Law, neither he nor his legal experts can find anything in the law which is unconstitutional".
At this point, Lu launches a final appeal: "We, the United States, call upon all of the political parties in Albania to continue to demand the full and rapid implementation of judicial reform". /balkaneu.com/