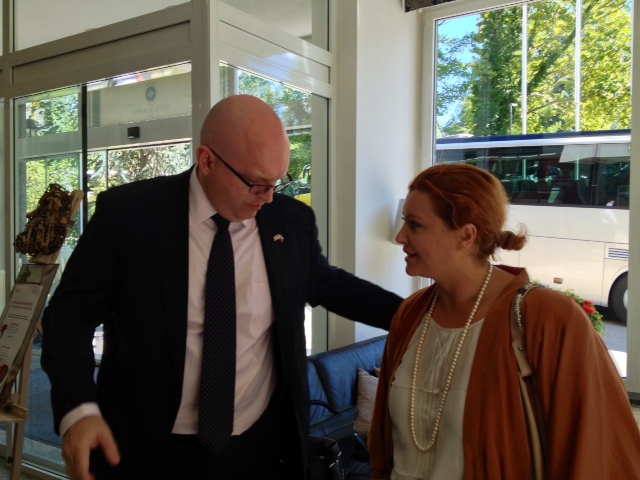 Bled, Slovenia, September 4, 2013
United States of America have discussed with Albanian authorities the concerns over the attacks launched by the new majority against the Albanian President of Republic.
This was confirmed on Wednesday by the vice Minister of Foreign Affairs, Edith Harxhi who has met (photo) in Slovenia the US Secretary of State senior official, Mr. Philip Reeker.
"Parties have discussed about the political and economic situation in Albania, about the new parliament, its composition and the latest attacks against constitutional institutions, especially against the President, hoping that these attacks will not persist any further, as this would be the right way for the country to be granted the EU candidate status within this year", states the press release issued by the Albanian Ministry of Foreign Affairs.
Mr. Reeker expressed to Mrs. Harxhi his opinion and that of the US Department of State in relation to the June 23 elections in Albania, by saying that they were a success for Albania and Berisha's government and that Prime Minister Berisha has the merit for organizing good elections in Albania.
Mr. Reeker also expressed his support and that of the US government toward Albania and his conviction that the new opposition will be constructive and strong and that it will have the support of USA.
On her part, Mrs. Haxhi said that the new opposition in Albania will be a solid and constructive force which will serve to the integration of the country and that the new opposition will be a strong partner for the USA.
Vice Foreign Minister, Edith Harxhi has participated in the proceedings of the Strategic Forum of Bled, Slovenia. During her stay there, Mrs. Harxhi also had meetings with foreign ministers of the countries of the region and shared opinions about the current situation in the region. /ibna/