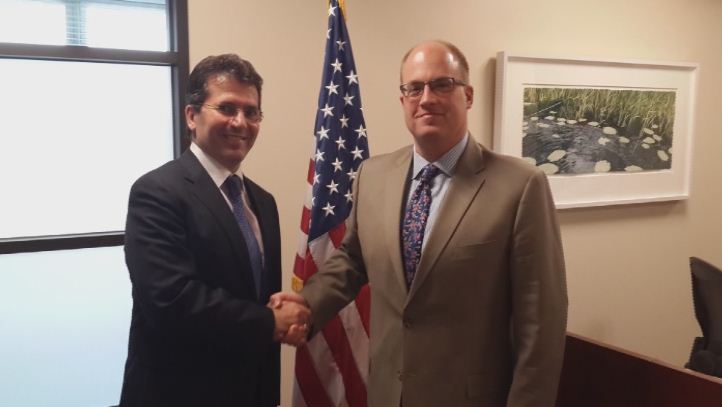 Tirana, May 9, 2014/Independent Balkan News Agency
US diplomacy strongly appeals for the new government and right wing opposition to work together for the integrating reforms which will lead the country toward the European Union accession.
Director of the office for Central and Southern Europe at the DoS, Jonathan Moore has had a meeting in Washington with the leader of the Albanian Republican Party, Fatmir Mediu, former minister of Environment.
Moore has underlined that the best path toward the EU is to respect Constitution and to have cooperation between the majority and opposition.
Part of the meetings with Mediu were also congressmen Jannice Hann, Danna Rochabcher, Louie Gohmert, Frank Wolf.
Mr. Moore and the congressmen said that USA will be a strong supporter of Albania in its European integration path. Therefore, was stressed by them, the majority and opposition must work together for this big objective.
According to them, Albania's EU accession is closely linked to the respect toward the Constitution, laws and rights of the citizens, and one of these rights is the property right.
In this meeting, the senior official of the Department of State said that the interest of the citizens, their security, the guarantee of property and economic development of the country are the objectives for which the government must work every day and for which it has been elected.
He said that fight against crime, especially crime which has extremist tendencies, must join politics to find the right solutions.
Albania is a NATO member country and must preserve its maximum responsibilities as an ally by contributing in peace keeping missions and fight against terrorism, declared the senior American officials.
Fatmir Mediu is holding an official visit to Washington DC, where he has held meetings with senior officials of the US State Department and congressmen.
Mediu has accused the left wing coalition led by SP and SMI of trying to put under control all constitutional institutions of Albania.
"The opposition has backed and backs European integration. In its entire political history, yesterday in power, today in opposition, the fulfillment of this major national interest has been and remains the primary scope of the right wing. But this requires a continuation of reforms. Opposition will at any moment support European integration, contrary to what SP in opposition did, but it will also demand for the law and Constitution to be applied", said Mr. Mediu in his meetings with American politicians. /ibna/