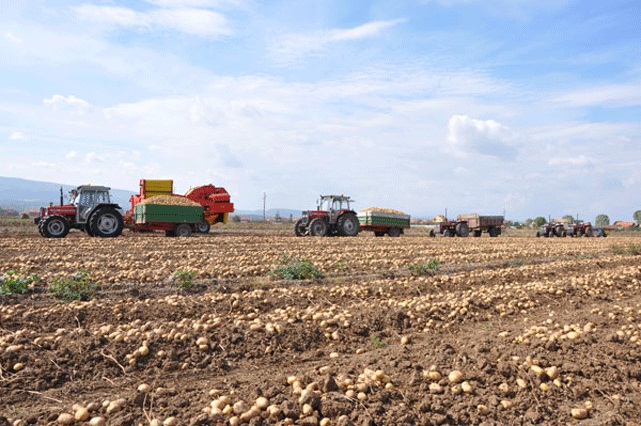 IBNA Special Report
Pristina, November 18, 2014/Independent Balkan News Agency
By Elton Tota
Kosovo continues to import large quantities of agricultural products from regional and international markets.
Although the necessary conditions for the development of agriculture exist, strategic plans for the development of this sector have been missing.
Nevertheless, good days seem to be in store for this sector. United States of America and the European Union has planned on allocating millions of Euros to help farmers in Kosovo.
This time, USAID program will help the government of Kosovo to invest 520 million Euros in agriculture in the next 12 years.
Head of economic development at USAID, Scott Cameron says that this will be made thanks to a project which guarantees loans up to 50%.
This way, he says that this will open 60 thousand new jobs, or five thousand jobs a year.
"With an initial capital of around 13 to 14 million USD over a 12 year period, we will inject 650 million USD in the economy in the form of loans to support 45 small and medium sized businesses and create 60 thousand new jobs", says Cameron.
According to Cameron, USAID will continue to back the private sector through the latest program "Strengthening of the Private Sector", which specifically targets small and medium sized enterprises.
According to him, businesses that can benefit these funds are those dealing in leather clothes, processing of wood, fruits, renewable energy, etc.
Cameron says that the youth of Kosovo has a bright future, therefore he calls on their business creative ideas to be supported.
Agriculture in Kosovo will also be helped by the European Union through the Instrument of Pre-Accession (IPA).
Kosovo will be included in the 2014-2020 IPA budget, among countries which enjoy the EU candidate status.
IPA has also allocated a budget for the period 2014-2020 for those countries which have not been granted the status in order for them to benefit these structural funds. A large percentage of these funds is thought to be allocated to the agricultural sector.
The basic criteria to benefit these funds relates to the impact of these projects in the economic development, in the community and in the economy of a country.
Professor of agricultural policies at the University of Pristina, Halim Gjergjizi says that Kosovo is lacking a long term strategy for the development of agriculture, which would include the priorities that can help in a boost of production.
"Agriculture and production of food must be one of the main competitive advantages of Kosovo, in order to meet the needs of the country with food and  also to export. Agriculture is truly a resource which in the future must be favored more than now", says Gjergjizi.
Experts of agriculture say that the fertile land and suitable weather conditions in Kosovo help for a quick recovery of this sector, if the institutions of Kosovo and foreign funds support farmers in Kosovo. /ibna/